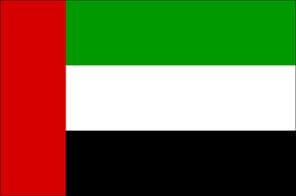 GEOGRAPHY
The Emirates are bordered to the north by the Gulf and the Musandam Peninsula, to the east by Oman, to the south and west by Saudi Arabia and to the northwest by Qatar. They comprise a federation of seven small former sheikhdoms. Abu Dhabi is the largest emirate, and the remainder (Ajman, Dubai, Fujairah, Ras al-Khaimah, Sharjah and Umm al- Qaiwain) are known collectively as the Northern States. The land is mountainous and mostly desert. Abu Dhabi is flat and sandy, and within its boundaries is the Buraimi Oasis.
Dubai has a 10-mile deep-water creek, giving it the popular name of 'Pearl of the Gulf'. Sharjah has a deep-water port on the Batinah coast at Khor Fakkan, facing the Indian Ocean. Ras al-Khaimah is the fourth emirate in size. Fujairah, one of the three smaller sheikhdoms on the Batinah coast, has agricultural potential, while Ajman and Umm al-Qaiwain were once small coastal fishing villages.
HISTORY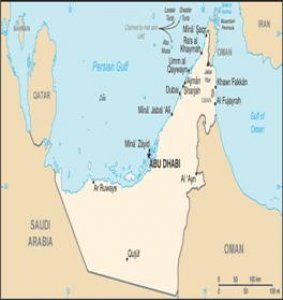 Following the sudden death of Sheikh Maktoum bin Rashid al-Maktoum, who had been prime minister and Emir of Dubai since 1990, Crown Prince Sheikh Mohammed bin Rashid al-Maktoum, his brother, succeeded him in January 2006. Sheikh Mohammed had been the UAE Defence Minister since 1971 and heir apparent to the throne of Dubai since 1995. People of the United Arab Emirates voted for the first time in December 2006 to choose half of the country's Federal National Council. However, only around 7,000 people (less than 1% of Emirati citizens) were eligible to vote.
THE PEOPLE
In 2009, the UAE's population was estimated at 6 million, of which just under 20% were UAE nationals or Emiratis, while the majority of the population were expatriates. 23% of the population are non-Emirati Arabs and Persians and the majority of the population, about 50%, is from South Asia. Approximately 1.75 million Indian nationals reside in the UAE, making them the single largest expatriate community in the country. Other major groups include 1.25 million Pakistanis, and 600,000 Bangladeshis. Those from other parts of Asia (including the Philippines, Iran or Sri Lanka) comprise up to 1 million people. The rest of the population are from other Arab states. Thousands of Palestinians, who came as either political refugees or temporary employment, also live in the United Arab Emirates. There is also a sizable population of people from Egypt, Somalia and Sudan who migrated to the UAE before its formation.
The UAE has also attracted a small number of expatriates from developed countries in Europe, North America, Asia, and Oceania. More than 100,000 British nationals live in the country. The most populated city is Dubai, with approximately 1.6 million people. Other major cities include Abu Dhabi, Al-Ain, Sharjah, and Fujairah. About 88% of the population of the United Arab Emirates is urban. The remaining inhabitants live in tiny towns scattered throughout the country or in one of the many desert oilfield camps in the nation.
SOCIAL CONVENTIONS
Muslim religious laws should be observed. Women are expected to dress modestly and men should dress formally for most occasions. Alcohol is tolerated, with non-Muslims allowed to drink alcohol in the city's bars, restaurants, clubs and hotels. Smoking is banned in public places. It is illegal to eat, drink or smoke in public during Ramadan.
LANGUAGES
Arabic is the official language. English is widely spoken and used as a second language in commerce.
GOVERNMENT
Federation of seven autonomous emirates. The highest federal authority is the Supreme Council of Rulers comprising the absolute rulers of the seven emirates. Decisions reached by the council must have the agreement of at least five members, including Abu Dhabi and Dubai, the two largest members. The council appoints a president to act as head of state. There are no political parties.
TIME ZONE
GMT + 4.
ELECTRICITY
220/240 volts AC, 50Hz. Square three-pin plugs are widespread.
CLIMATE
The climate in the United Arab Emirates is sub-tropical and arid. During summer (April to September) the weather is hot (around 122ºF) and extremely humid. At other times the humidity is less and the temperature generally ranges from 68-95ºF, with an average night time temperature of -59ºF. Rainfall is infrequent and usually occurs between November and March, with an average annual rainfall of 6 in. There can be occasional sandstorms from the desert and some winter mornings bring fog, although this usually dissipates fairly quickly.
Clothes to Wear:
Women should carry a light shawl wherever you go so that you can cover yourself if you visit a traditional place, such as a temple. It can also be used to keep you warm when the air-conditioning is too high, which is usually the case in public buildings! Pack a broad-brimmed hat and sunglasses to protect you from the sun, especially if you are planning to go to the beach. Pack a pair of good walking shoes. The malls in Dubai are famous for their size, and you'll definitely find yourself walking a lot in Dubai. Wear comfortable shoes made for walking, to keep you from getting blisters or sore arches.
LOGISTICAL
Entry & Exit Requirements:
A passport is required to enter the UAE. For personal travel of 30 days or fewer, U.S. citizens holding valid passports may obtain visitor visas at the port of entry for no fee. For a longer stay, a traveler must obtain a visa before arrival in the UAE. Please verify all information with the Embassy of the United Arab Emirates before you travel.
It is located at 3522 International Court, NW, Washington, DC 20037. Tel: (202) 243-2400. Visit the Embassy of the United Arab Emirates web site for the most current visa information.
U.S. citizens and citizens of other countries that are not members of the Gulf Cooperation Council (GCC) who depart the UAE via land are required to pay a departure fee. This fee is 20 UAE dirhams and is payable only in the local currency.
U.S. citizens traveling in the United Arab Emirates are encouraged to register with the nearest U.S. embassy or consulate at the Department of State's travel registration page in order to obtain updated information on local travel and security. U.S. citizens without Internet access may register directly with the nearest U.S. embassy or consulate. Registration is important; it allows the State Department to assist U.S. citizens in an emergency.
Embassy Locations:
U.S. Embassy to United Arab Emirates
Embassies District, Plot 38
Sector W59-02, Street No. 4
Tel: (971) (2) 414-2200
Emergency after-hours Tel:
(971) (2) 414-2500
Fax: (971) (2) 414-2241
http://abudhabi.usembassy.gov/
Embassy of Canada to United Arab Emirates
Abu Dhabi Trade Towers
(Abu Dhabi Mall) West Tower
9th & 10th Floors
Tel: 971-(0) 2-694-0300
Fax: 971-(0) 2-694-0399
http://www.canadainternational.gc.ca/uae-eau/index.aspx?lang=eng
Health
Information on vaccinations and other health precautions, such as safe food and water precautions and insect bite protection, may be obtained from the Centers for Disease Control and Prevention's (CDC) hotline for international travelers at 1-800-CDC-INFO (1-800-232-4636) or via the CDC website at http://wwwnc.cdc.gov/travel. For information about outbreaks of infectious diseases abroad, consult the infectious diseases section of the World Health Organization (WHO) web site (http://www.who.int/topics/infectious_ diseases/en/. The WHO web site also contains additional health information for travelers, including detailed country-specific health information.
BANKS & CURRENCY
UAE Dirham (AED) = 100 fils. Notes are in denominations of AED 1,000, 500, 200, 100, 50, 20, 10 and 5. Coins are in denominations of AED 1, and 50, 25, 10 and 5 fils (10 and 5 fils coins are rarely used). The Dirham is tied to the US$.
Most hotels will handle the exchange of foreign currency as well as many major banks. Many of the large shopping malls have bureau de change. American Express, Diners Club, MasterCard and Visa are widely accepted. ATM's are found across the UAE, mostly in the major cities of Abu Dhabi and Dubai. These are widely accepted. To avoid additional exchange rate charges, travelers are advised to take traveler's checks in US Dollars. There are no restrictions on the import or export of local or foreign currency. Amounts over AED 40,000 must be declared at customs.
Sat-Wed 8am-1pm, Thur 8am-12pm. Some also open Sat-Wed 04:30 pm-06:30 pm.
COMMUNICATION
Country code: 971. There is a good local telephone network. Telephone calls within each state are free.
Cell phones: Roaming agreements exist with most international mobile phone operators. Coverage is excellent.
There are numerous Internet cafes in the UAE but VoIP telephone systems, such as Skype, are officially blocked by the monopoly telecoms provider.
Cell Phone Usage:
Please contact your cell phone provider to determine whether your contract includes coverage in the country you are visiting. Depending on your contract you may have to add international services and/or country specific services.
ENTERTAINMENT
Food & Drink:
Local fruit and vegetables are increasingly available and there is excellent local fish. Hotels serve both Arab and European food and there is also a number of Chinese, Indian and other restaurants.
All the emirates, with the exception of Sharjah, permit the consumption of alcohol by non-Muslims. It is illegal to drink alcohol in the street or to buy it for a UAE citizen.
National specialities:
Hummus (chickpea and sesame paste).
Tabbouleh (bulghur wheat with mint and parsley).
Ghuzi (roast lamb with rice and nuts).
Warak enab (stuffed vine leaves).
Koussa mashi (stuffed courgettes).
National drinks: Ayran (a refreshing yoghurt drink) and strong black coffee.
Nightlife:
There are numerous nightclubs located in major centers and entertainment ranges from Arabic singers and dancers to international pop stars. Bars are found in all top hotels and range from sophisticated cocktail lounges to English-style pubs. Some hotels also have discos. Traditional dances are performed on public holidays. Most large towns have cinemas showing English-language films.
Shopping:
Customs duties are low and therefore luxury goods are cheaper than in most countries. The Dubai duty-free shop is one of the cheapest in the world. Souks sell traditional Emirati leather goods, gold, brass and silverware.
Shopping hours: Daily 9am-1pm and 4pm-9pm, but many shops are open all day. Shops close for prayers on Fridays, 11:30 am-01:30 pm.
BAGGAGE
Baggage rules for international and domestic air travel have changed much in recent years, differ from carrier to carrier and these days even may cover your on-board bags. Checking luggage may cost a separate fee or may be free depending on your personal status with the carrier. We therefore encourage you to read your ticket's small print and/or contact your carrier for exact rules.
TIPPING
Airport transfers: AED 2-3 per person for arrival & departure each
Porterage at the hotel: AED 3 per bag per porterage
Meals: AED 3 per person
Guide: Total AED 70 per half day (divided by number of passengers)  & Total of AED 110 per full day (divided by number of passengers)
Coach Driver: AED 10 per person per day at the end of the tour
LAUNDRY
Most hotels will arrange affordable laundry services for guests.
PHOTOS & VIDEOS
In some countries you must refrain from photographing sites such as Military bases and industrial installations. Also be aware of cultural sensitivities when taking pictures of or near churches and other religious sites. It is always courteous to ask for permission before taking photographs of people.
USE OF DRONES: 
The use of drones is being legislated by many countries. In some cases drones are already forbidden and their unauthorized use may carry severe penalties. If you plan to travel with a drone please contact the embassy or consulate of the country you wish to visit.