GEOGRAPHY
Turkey borders the Black Sea and Georgia and Armenia to the northeast, Iran to the east, Iraq to the southeast, the Syrian Arab Republic and the Mediterranean to the south, the Aegean Sea to the west and Greece and Bulgaria to the northwest. Asia Minor (or Anatolia) accounts for 97% of the country's area and forms a long, wide peninsula 1,025 miles from east to west and 400 miles from north to south. Two east-west mountain ranges, the Black Sea Mountains in the north and the Taurus in the south, enclose the central Anatolian plateau, but converge in a vast mountainous region in the far east of the country. It is here that the ancient Tigris and Euphrates rivers rise.
HISTORY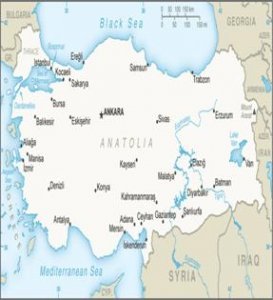 Turkey's first known human inhabitants appeared in the Mediterranean region as early as 7500 BC, and the cycles of empire building, flexing, flailing and crumbling didn't take long to kick in. The first great civilization was that of the Hittites, who worshipped a sun goddess and a storm god. The Hittites dominated Anatolia from the Middle Bronze Age (1900-1600 BC), clashing with Egypt under the great Ramses II and capturing Syria, but by the time Achaean Greeks attacked Troy in 1250 BC, the Hittite machine was creaking.
A massive invasion of 'sea peoples' from Greek islands put untenable pressure on the Hittites and a jumble of smaller kingdoms played at border bending until Cyrus, emperor of Persia (550-530 BC) swept into Anatolia from the east. The Persians were booted out by Alexander the Great, who conquered the entire Middle East from Greece to India around 330 BC. After Alexander's death his generals squabbled over the spoils and civil war was the norm until the Galatians (Celts) established a capital at Ankara in 279 BC, bedding down comfortably with the Seleucid, Pontic, Pergamum and Armenian kingdoms.
PEOPLE
Turks (85%), Kurds (12%), other Islamic peoples, Armenians, and Jews.
SOCIAL CONVENTIONS
Shaking hands is the normal form of greeting. Hospitality is very important and visitors should respect Islamic customs. Informal wear is acceptable, but beachwear should be confined to the beach or poolside. Smoking is widely acceptable but prohibited in cinemas, theatres, buses, coaches and dolmuşes (collective taxis).
LANGUAGES
Turkish. Kurdish is also spoken by a minority in the southeast. French, German and English are widely spoken in major cities and tourist areas.
GOVERNMENT
Republic since 1923.
TIME ZONE
GMT/UTC +2.
 ELECTRICITY
230V ,50Hz.
CLIMATE
Temperatures in Ankara vary between 25ºF and 86ºF. Marmara and the Aegean and Mediterranean coasts have a typical Mediterranean climate with hot summers and mild, wet winters. The east of the country is mountainous with warm summers and very cold, snowy winters. The southeast has very hot summers and cold winters. The Black Sea coast is the wettest part of the country, especially in the northeast.
Clothes to Wear:
Light- to medium-weights and rainwear.
LOGISTICAL
Entry & Exit Requirements:
You need a passport and visa to travel to Turkey. Passports should be valid for at least six months from the date of entry into Turkey and must have enough blank space to allow for Turkish entry and exit stamps. If there is not enough space for entry and exit stamps in your passport, you will be denied entry into Turkey.
Beginning April 10, 2014, the Turkish Ministry of Foreign Affairs will no longer provide visas on arrival (at airports) to foreign travelers. All foreigners must obtain their Turkish visas from Turkish missions abroad or from the e-visa application system, depending on eligibility. If you are traveling for tourism or commerce for up to 90 days within a 180 day period, you can apply for a visa online at www.evisa.gov.tr or at any Turkish Embassy or Consulate. The e-Visa replaces the sticker visa previously obtained at airports and other ports of entry. Additional information about e-Visas can be found at the official website www.evisa.gov.tr. The multiple entry e-Visa, which is valid for 180 days, costs $20 (U.S.) while visas obtained at a Turkish Embassy or Consulate cost more and have different validity periods: $60 for single entry visas valid for one year and $200 for multiple entry visas valid for five years.
For all tourism and commerce-related entries the traveler is allowed to remain in Turkey for 90 days within a 180 day period.
For further information, travelers in the U.S. may contact the Embassy of the Republic of Turkey at 2525 Massachusetts Avenue NW, Washington, DC 20008. Tel: (202) 612-6700 begin_of_the_skype_highlightingend_of_the_skype_highlighting, or the Turkish Consulates General in Chicago, Houston, Los Angeles, or New York. Visit the Embassy of Turkey website for the most current visa information. Overseas, travelers may contact a Turkish embassy or consulate.
U.S. citizens traveling in Turkey are encouraged to register with the nearest U.S. embassy or consulate at the Department of State's travel registration page in order to obtain updated information on local travel and security. U.S. citizens without Internet access may register directly with the nearest U.S. embassy or consulate. Registration is important; it allows the State Department to assist U.S. citizens in the event of an emergency.
Embassy Locations:
U.S. Embassy in Turkey
110 Atatürk Boulevard, Ankara
Tel: (90) (312) 455-5555
Fax (90) (312) 468-6131
Visa information: (90) (212) 344-4444
A/hours emer.: (90) (312) 455 5555
http://turkey.usembassy.gov/
Embassy of Canada to Turkey
Cinnah Caddesi no: 58
06690, Cankaya, Ankara
Tel: +90 (312) 409 27 00 begin_of_the_skype_highlightingend_of_the_skype_highlighting
Fax: +90 (312) 409 27 12
http://www.canadainternational.gc.ca/turkey-turquie/index.aspx?lang=eng
Health:
Travelers are advised to drink only bottled water or water that has been filtered and boiled. Bottled beverages are considered safe to drink. Most local dairy products, including milk, yogurt, and cheese, are safe to consume. However, care must be taken when purchasing all perishable products, as many vendors do not have adequate refrigeration. Travelers are advised to wash vegetables and fruits carefully and to cook meat thoroughly before eating.
Travelers to Turkey are cautioned to avoid poultry farms and contact with animals in live food markets. For the most current information and links on avian influenza in Turkey, see the State Department's Avian Influenza Fact Sheet or visit the website of the U.S. Embassy in Ankara.
 All arriving international air passengers are currently screened by thermal imaging equipment upon arrival. Any passenger with an elevated temperature will be tested for H1N1 and could be quarantined in a local hospital for up to one week, to undergo treatment.
Tuberculosis is an increasingly serious health concern in Turkey. For further information, please consult the CDC's information on TB.
 Information on vaccinations and other health precautions, such as safe food and water precautions and insect bite protection, may be obtained from the Centers for Disease Control and Prevention's (CDC) hotline for international travelers at 1-800-CDC-INFO (1-800-232-4636) or via the CDC website at http://wwwnc.cdc.gov/travel. For information about outbreaks of infectious diseases abroad, consult the infectious diseases section of the World Health Organization (WHO) website at http://www.who.int/topics/infectious_diseases/en/. The WHO website also contains additional health information for travelers, including detailed country-specific health information.
Banks & Currency:
New Turkish Lira (TRY; symbol YTL) = 100 New Kurus (Ykr). Notes are in denominations of YTL200, 100, 50, 20, 10, 5 and 1. Coins are in denominations of YTL1 and 50, 25, 10, 5 and 1 New Kurus.
Cash can usually be exchanged commission free in currency exchange offices (döviz bürosu). Banks usually charge commission. Traveler's checks can only be exchanged in banks with a passport. Travelers planning to exchange currency back before leaving Turkey, or making a major purchase which may need to be declared to customs, must retain transaction receipts to prove that the currency was legally exchanged.
Visa is the most popular, closely followed by MasterCard. American Express is accepted in top-flight hotels, restaurants and some gift shops. ATM's are widely found in most areas.
Travelers' checks can only be exchanged in banks. To avoid additional exchange rate charges, travelers are advised to take traveler's checks in US Dollars. Credit cards are far more convenient.
There are no restrictions on the import or export of local. The import and export of foreign currency exceeding US$5,000 must be declared.
Banking hours: Mon-Fri 08:30am-12pm and 01:30pm-5pm. Some banks in tourist areas and large cities are open daily.
Communication:
Country code: 90. The cheapest way to make calls is from PTT telephone booths, which are found in all areas. These operate using phone cards, which can be bought from kiosks, or by using major credit cards.
Roaming agreements exist with most international mobile phone companies. Coverage is mostly good, but can be patchy in some rural areas in eastern Turkey.
Internet cafes exist in main urban areas. Some restaurants and hotels have Wi-Fi Internet access.
Turkish post offices are recognisable by their yellow PTT signs. Post office hours: major outlets Mon-Sat 8am-12am, Sun 9am-7pm; smaller post offices have the same opening hours as government offices.
Cell Phone Usage:
Please contact your cell phone provider to determine whether your contract includes coverage in the country you are visiting. Depending on your contract you may have to add international services and/or country specific services.
ENTERTAINMENT
Food & Drink:
Turkish food combines culinary traditions from the people's nomadic past in Central Asia with influences of the Middle Eastern and Mediterranean cuisine. Guests are usually able to go into a kitchen and choose from the pots if they cannot understand the names of the dishes. A wide range of international cuisine is also available in the major cities, and standard German and British dishes along the coasts. Turkey is a secular state and alcohol is widely enjoyed, although during Ramadan it is considered polite for visitors to avoid drinking alcohol in public. Some local restaurants do not serve alcohol.
National specialities:
Köfte (spicy sausage-shaped meatballs made of minced lamb)
Shish kebab (pieces of meat threaded on a skewer and grilled)
Pide (the Turkish equivalent of pizza topped with cheese and eggs)
Dolma (vine leaves or vegetables stuffed with pine nuts and currants)
Lokum (Turkish Delight – originally made from dates, honey, roses and jasmine bound by Arabic gum and designed to sweeten the breath after coffee).
National drinks:
Raki (anisette), known as 'lion's milk', which clouds when water is added. Drinking raki is a ritual and is traditionally accompanied by a variety of meze (small savoury appetizers).
Ayran (a refreshing yoghurt drink)
Çay (tea – usually drunk black and strong and served in small tulip-shaped glasses)
Strong black Turkish coffee (traditionally brewed over hot coals and served very sweet)
Turkish beer, red and white wines.
Nightlife:
Turkey's newfound economic prosperity and cultural shift to the West has stimulated many new nightclubs to open for business in recent years. Istanbul has the largest variety with an abundance of clubs in the Taksim Square area that stay open until the early hours. Some clubs have a strong Turkish character, with live Turkish music, while others are fairly indistinguishable from those in western Europe and play anything from house and techno to heavy metal.
Istanbul also has quite a few jazz bars. Cover charges tend to be on the high side. Belly dancing is a Turkish tradition but these days it tends to be put on mostly for the tourists. Shows are often staged at large hotels. The tradition is to tip the dancer by placing a folded note in an appropriate part of her costume. Turks like to dine in tavernas called meyhane, where traditional food is accompanied by folk music and dancing. Traditionally these were all-male, rather sleazy establishments but most modern-day meyhane are comfortable places for foreign visitors of either sex to visit.
There are theatres with concerts in Ankara, Istanbul and Izmir and most towns have cinemas, although the recent advent of home DVD payers is now taking its toll. Turkish baths (hamam) are popular and a Turkish institution. Even the smallest town will generally have a hamam and larger towns and cities usually have one for each individual neighbourhood. Baths are either designated specifically for men or women, or a single hamam will have separate opening times to accommodate males and females.
Shopping:
Istanbul's Kapali Carsi Bazaar has jewellery, carpets and antiques for sale. There are also a large number of shops selling carpets and Turkish handicrafts in the Sultanahmet district. The Egyptian Bazaar near Galata Bridge is a good place to buy food products. Turkish handicrafts include a rich variety of textiles and embroideries, articles of copper, onyx and tile, mother-of-pearl, inlaid articles, leather and suede products, jewellery and, above all, carpets and kilims. Nargiles (water pipes) and musical instruments also make good, reasonably priced souvenirs, as do spices like saffron and sumac.
Outside Istanbul, most other cities and larger resorts have a market area where visitors can buy souvenirs and handicrafts. Often this is a covered bazaar area where the goods on sale are manufactured in workshops adjacent to the shops that sell the produce. Bargaining is essential, although you are unlikely to reduce the asking price by all that much unless it was completely unrealistic to start with. Begin bargaining at a price somewhat below what you are genuinely willing to pay. If buying an old carpet or kilim, it is important that the seller issues an invoice (fatura) that states the carpet's estimated age and purchase price in order to satisfy customs that it is not an antiquity. Beware of so-called 'antiques' peddled at some archaeological sites like Ephesus. These are of very doubtful antiquity and, besides, would be illegal to export if they were genuine.
Shopping hours: Daily 09:30am-7pm in tourist areas. Closing hours vary, with some shops staying open until midnight. Outside tourist areas shops may close at lunchtime and on Sundays. Istanbul covered market: Mon-Sat 8am-7pm (closed Sunday).
BAGGAGE
Baggage rules for international and domestic air travel have changed much in recent years, differ from carrier to carrier and these days even may cover your on-board bags. Checking luggage may cost a separate fee or may be free depending on your personal status with the carrier. We therefore encourage you to read your ticket's small print and/or contact your carrier for exact rules.
TIPPING
A service charge is included in hotel and restaurant bills. It is customary to leave a small tip (10 to 15%) for barbers, hairdressers, Turkish Bath attendants and waiters in smarter establishments.  In inexpensive cafes and restaurants a small gratuity is appreciated. When using taxis, passengers should just round up the fare. A recommended tip for your tour guide is $3-$5 per person per day.
LAUNDRY
Most hotels will arrange affordable laundry services for guests.
PHOTOS & VIDEOS
In some countries you must refrain from photographing sites such as Military bases and industrial installations. Also be aware of cultural sensitivities when taking pictures of or near churches and other religious sites. It is always courteous to ask for permission before taking photographs of people.
USE OF DRONES 
The use of drones is being legislated by many countries. In some cases drones are already forbidden and their unauthorized use may carry severe penalties. If you plan to travel with a drone please contact the embassy or consulate of the country you wish to visit.