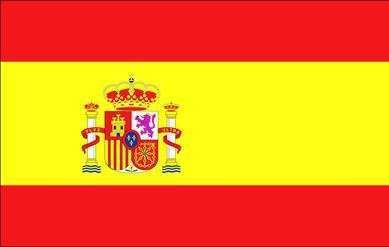 GEOGRAPHY
Spain occupies 85% of the Iberian Peninsula, which it shares with Portugal, in southwest Europe. Africa is less than 10 mi (16 km) south at the Strait of Gibraltar. A broad central plateau slopes to the south and east, crossed by a series of mountain ranges and river valleys. At 505,992 km2 (195,365 sq mi), Spain is the world's 52nd-largest country. It is some 47,000 km2 (18,000 sq mi) smaller than France and 81,000 km2 (31,000 sq mi) larger than the U.S. state of California. Mt. Teide (Tenerife) has the highest mountain peak of Spain and the third largest volcano in the world from its base.
Spain lies between latitudes 26° and 44° N, and longitudes 19° W and 5° E.
On the west, Spain borders Portugal; on the south, it borders Gibraltar (a British overseas territory) and Morocco, through its exclaves in North Africa (Ceuta, Melilla, and Peñón de Vélez de la Gomera). On the northeast, along the Pyrenees mountain range, it borders France and the tiny principality of Andorra. Along the Pyrenees in Girona, a small exclave town called Llívia is surrounded by France.
HISTORY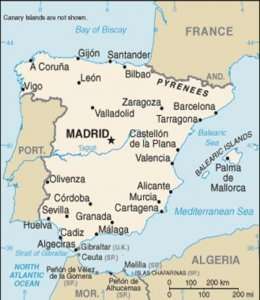 Iberia enters written records as a land populated largely by the Iberians, Basques and Celts. After an arduous conquest, the peninsula came under the rule of Rome. During the early Middle Ages it came under Germanic rule but later, it was conquered by Moorish invaders from North Africa. In a process that took centuries, the small Christian kingdoms in the north gradually regained control of the peninsula. The last Moorish kingdom fell in the same year Columbus reached the Americas. A global empire began which saw Spain become the strongest kingdom in Europe and the leading world power for a century and a half and the largest overseas empire for three centuries.
Continued wars and other problems eventually led to a diminished status. The Napoleonic invasions of Spain led to chaos, triggering independence movements that tore apart most of the empire and left the country politically unstable. Prior to the Second World War, Spain suffered a devastating civil war and came under the rule of an authoritarian government, whose rule oversaw a period of stagnation but that finished with a powerful economic surge. Eventually democracy was peacefully restored in the form of a parliamentary constitutional monarchy. Spain joined the European Union, experiencing a cultural renaissance and steady economic growth.
THE PEOPLE
Composite of Mediterranean and Nordic types
SOCIAL CONVENTIONS
Spanish life has undergone rapid change in recent decades and stricter religious customs have been superseded by more modern ways, particularly in the cities and among women. In spite of this, traditions remain strong; hospitality, chivalry and courtesy thrive. Handshaking is the customary form of greeting between men, while women (outside of a business context) are greeted with a fleeting kiss to either cheek (left then right).
Spaniards eat late; lunch around 1400-1530; the evening meal 2100-2300. The Spanish have two family names; the maternal surname follows the paternal, but is rarely used outside a formal context. Smoking is banned in offices, shops, schools, hospitals, cultural centres and on public transport. Bars and restaurants must declare whether they permit or prohibit smoking. The vast majority have opted for the former, though large restaurants are obliged by law to have a substantial non-smoking section.
LANGUAGES
Castilian Spanish (official) 74%, Catalan 17%, Galician 7%, and Basque 2%
note: Catalan is official in Catalonia, the Balearic Islands, and the Valencian Community (where it is known as Valencian); in the northwest corner of Catalonia (Vall d'Aran), Aranese is official along with Catalan; Galician is official in Galicia; Basque is official in the Basque Country
GOVERNMENT
Parliamentary monarchy
TIME ZONE
Local time is GMT/ITC +1 hour
ELECTRICITY
Voltage is 220V, 50 Hz (cycles). One needs to use a transformer (converter) if the appliance one wants to use is 110V. The voltage in the U.S. is 110V, 60 Hz. The wattage of the transformer must match the wattage of the appliance.
CLIMATE
Spain's climate varies from temperate in the north to dry and hot in the south. As it is a big country with varying terrain and altitudes, climate can be extremely distinctive from one corner to another. Overall, the coastal regions in the South and Eastern parts of Spain are excellent to visit all year round thanks to the Mediterranean climate (mild temperatures and long days). Northern Spain generally experiences colder temperatures than the South, while Central Spain stays hot and dry due to its location on a plateau.
Clothes to Wear:
From June to August on the coastal areas, casual beach wear like flip flops, vests, loose fitting clothing and shorts will suffice. It can get unbearably hot in the city, so be prepared to brave the weather with plenty of water, a hat and sunscreen.
In between high and low season (April-May; October-November) climate can be unpredictable in certain parts of the country– be sure to pack your umbrella, raincoat and a light jacket for the night.
LOGISTICAL
Entry & Exit Requirements:
U.S. citizens may enter Spain for up to 90 days in a six-month period for tourist or business purposes without a visa. Your passport should be valid for
at least three months beyond the period of stay. You should leave Spain promptly at the end of the 90-day visa-free travel period, or at the end of the time stated on your visa.
Visit the Ministry of Foreign Affairs or the Embassy of Spain website for the most current visa information. For more information concerning entry requirements for Spain, travelers should contact the Embassy of Spain at 2375 Pennsylvania Avenue NW, Washington, DC 20037, telephone (202) 452-0100 or (202) 728-2340, or the nearest Spanish Consulate in Boston, Chicago, Houston, Los Angeles, Miami, New Orleans, New York, San Francisco, or San Juan. Additional information can be found from the Tourist Office of Spain which has offices in several U.S. cities.
Embassy Locations:
U.S. Embassy in Spain
Serrano 75
28006 Madrid, Spain
Telephone: +34 91 587-2200
Fax: +34 91 587-2303
(Within Spain use phone numbers without 34)
Embassy of Canada
Torre Espacio
Paseo de la Castellana 259D
28046 Madrid, España
Tel: (34) 91 382 8400
Fax: (34) 91 382 8490
Email: mdrid@international.gc.ca
Health:
Information on vaccinations and other health precautions, such as safe food and water precautions and insect bite protection, may be obtained from the Centers for Disease Control and Prevention's (CDC) hotline for international travelers at 1-800-CDC-INFO (1-800-232-4636) or via the CDC website at http://wwwnc.cdc.gov/travel. For information about outbreaks of infectious diseases abroad, consult the infectious diseases section of the World Health Organization (WHO) website at http://www.who.int/topics/infectious_ diseases/en/. The WHO website also contains additional health information for travelers, including detailed country-specific health information.
 Banks & Currency:
In Spain, as in most of  Western Europe, the official currency is the Euro (€).   The Euro is divided into 100 cents (centimes, centesimi), with two decimals after the comma. So, a price will often be displayed as €10,00 (ten euros); or €2,14 (two euro and 14 cents), etc.
Banking hours are generally Mon-Fri 0830-1400. Some branches open Saturdays too, from October to April.
Communication:
The main mobile network operators in Spain are Yoigo, Vodafone, Movistar and Orange, as in most of Europe voice and data coverage is generally good in urban areas however it can be patchy in rural locations.
"Locutorios" (Call Shops) are widely spread in bigger cities and touristy locations. In Madrid or Toledo it's very easy to find one. Making calls from "Locutorios" tend to be much cheaper, especially international calls (usually made through VoIP). They are usually a good pick for calling home.
When using a laptop in an outdoor location, always be aware of your surroundings and the location of your belongings. Also be aware that even though it is not yet illegal to use unsecured wi-fi signals, there is work being done on the relevant laws and it may become illegal very soon.
Cell Phone Usage:
Please contact your cell phone provider to determine whether your contract includes coverage in the country you are visiting. Depending on your contract you may have to add international services and/or country specific services.
ENTERTAINMENT
Food & Drink:
Spain's eating and drinking culture is one of its greatest attractions, and a very sociable one, with people rubbing shoulders in tapas bars and café. The Spaniards take their food seriously – be it diner-style menus del dia or elaborate, nouveau cuisine in gourmet restaurants. Food is generally good whichever corner of Spain you go to. Spanish drinks have also brewed up quite a storm worldwide – from the thirst-quenching sangria to the sophisticated Rioja wine. me-up".
Nightlife:
Spaniards often start the evening with el paseo – a leisurely stroll through the city's streets. A café terrace is an excellent vantage point to observe this tradition. The atmosphere is especially vibrant at fiesta time. They then continue the night with a tapeo, moving between tapas bars, drinking and snacking. Tapas culture is especially rich in Madrid and Andalusia, whilst San Sebastian and Bilbao are famed for the more sophisticated version – pintxos.
Then it's time for copas or cubatas – mixed drinks in bars, pubs, or nightclubs. Trendy nightlife can be found in the major cities like Barcelona and Madrid, and in coastal resorts like Ibiza or Marbella, but even small villages will have somewhere where you can dance till dawn.
Shopping:
If you're looking for unique souvenirs, there are plenty of artisan markets in Madrid and Andalucía. A myriad of handicraft, porcelain figures and accessories are sold in these markets. They are often set up during festive season like Christmas and New Years.
Spanish leather goods, particularly those from Andalucía, combine excellent craftsmanship with high-quality design. Catalonian textiles are internationally famous and there are mills throughout the region. Fine rugs and carpets are made in Cáceres, Granada and Murcia. The numerous excellent sherries, wines and spirits produced in Andalucía make good souvenirs to take home, as do bottles of Spain's excellent olive oil. Fine, handcrafted wooden furniture is one of the outstanding products of Valencia, which holds an annual international furniture fair. Alicante is an important centre for toy manufacturing.
BAGGAGE
Baggage rules for international and domestic air travel have changed much in recent years, differ from carrier to carrier and these days even may cover your on-board bags. Checking luggage may cost a separate fee or may be free depending on your personal status with the carrier. We therefore encourage you to read your ticket's small print and/or contact your carrier for exact rules.
TIPPING
Spanish VAT (IVA) of 7% is included in most menu prices and 5% is customary.
LAUNDRY
Laundry service is available at most hotels in the main centers. Generally you should allow about 24-hours before the item is returned to you, however, some have an emergency service available at an extra charge.
PHOTOS & VIDEOS
In some countries you must refrain from photographing sites such as Military bases and industrial installations. Also be aware of cultural sensitivities when taking pictures of or near churches and other religious sites. It is always courteous to ask for permission before taking photographs of people.
USE OF DRONES 
The use of drones is being legislated by many countries. In some cases drones are already forbidden and their unauthorized use may carry severe penalties. If you plan to travel with a drone please contact the embassy or consulate of the country you wish to visit.