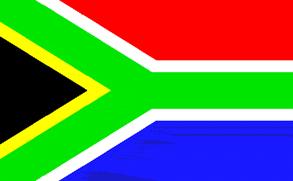 GEOGRAPHY
The Republic of South Africa lies at the southern end of the African continent. It is bound by the Indian Ocean to the east and the Atlantic Ocean to the west, and is bordered to the north by Namibia, Botswana, Zimbabwe, Mozambique and Swaziland and totally encloses Lesotho.
South Africa has three major geographical regions, namely plateau, mountains and the coastal belt. The high plateau has sharp escarpments, which rise above the plains, or veld. Despite two major river systems, the Limpopo and the Orange, most of the plateau lacks surface water. Along the coastline are sandy beaches and rocky coves, and the vegetation is shrub-like. Following the 1994 elections, South Africa was organized into nine regions.
These comprise the Western Cape with its provincial and national capital of Cape Town, the Eastern Cape with its provincial capital of Bisho, the Northern Cape with its provincial capital Kimberley, KwaZulu-Natal with its provincial capital Pietermaritzburg, the Free State with its provincial capital of Bloemfontein, the North West Province with its provincial capital Mmabatho, the Northern Province with its provincial capital Pietersburg, Mpumalanga with its provincial capital of Nelspruit, and Gauteng with its provincial capital of Johannesburg.
HISTORY
After the British seized the Cape of Good Hope area in 1806, many of the Dutch settlers (the Boers) trekked north to found their own republics. The discovery
of diamonds (1867) and gold (1886) spurred wealth and immigration and intensified the subjugation of the native inhabitants. The Boers resisted British encroachments, but were defeated in the Boer War (1899-1902). The resulting Union of South Africa operated under a policy of apartheid – the separate development of the races. The 1990s brought an end to apartheid politically and ushered in black majority rule.
THE PEOPLE
The People of South Africa consist of: 79% as African; 9.6% as white; 8.9% as colored; and 2.5% as Indian/Asian. The South African population consists of the following groups: the Nguni (comprising the Zulu, Xhosa, Ndebele and Swazi people); Sotho-Tswana, who include the Southern, Northern and Western Sotho (Tswana people); Tsonga; Venda; Afrikaners; English; coloreds; Indians; and those who have immigrated to South Africa from the rest of Africa, Europe and Asia and who maintain a strong cultural identity. A few members of the Khoi and the San also live in South Africa.
SOCIAL CONVENTIONS
Handshaking is the usual form of greeting. Normal courtesies should be shown when visiting someone's home. Casual wear is widely acceptable. Dinner jacket and black tie for men and full-length dresses for women are only required for formal social functions, and this will be specified on the invitation. Smoking is prohibited in public buildings and on public transport.
LANGUAGES
South Africa has 11 official languages: English, Afrikaans, Ndebele, North Sotho, South Sotho, Swati, Tsona, Tswana, Venda, Xhosa and Zulu. English is widely spoken throughout the country and will be found on road signs and official notices.
Southern Africa words that you will possibly hear:
Boerewors             A spicy traditional "Farmer's Sausage", grilled or fried, mixed meat.
Boma                    A grass thatched recreational area
Biltong                  (Jerky) Dried meat – excellent grated on scrambled eggs, or on its own.
Braai                     A traditional South African Barbecue
Bunny Chow          A traditional dish in Natal. Curry in a half loaf of bread
China                    friend
Hamba Kahle         Go well – A Zulu farewell
Howzit                   A common greeting – Hello, and how are you
Koeksister             A deep-fried plaited dumpling that has been soaked in heavy syrup
Lekker                   nice, tasty
Pap 'n Vleis            A traditional African dish of meat and stiff maizemeal porridge
Potje (poi-key)      A black cast iron pot for cooking stews on a fire – often venison.
Sosatie                  A tasty kebab smothered in a spicy sauce, flame grilled.
GOVERNMENT
The Republic of South Africa is a constitutional democracy with a three-tiered system of government and an independent judiciary, operating under a parliamentary system. However, unlike republics with Westminster-style parliamentary systems, the President is both Head of State and Head of Government.
 TIME ZONE
Standard Time in South Africa throughout the year is two hours in advance of Greenwich Mean Time, seven hours in advance of Eastern Standard Time, USA and ten hours ahead of the Pacific Standard Time.
ELECTRICITY
South Africa has 220 to 230 / 380 V – 50 Hz. Most hotels have a selection of adapters for hire, and many have hairdryers in the rooms.
CLIMATE
South Africa is below the equator; therefore its seasons are opposite to those of North America. Summer falls between November and March, with the peak summer months being December and January. Winter is June to August.  Most of South Africa enjoys a pleasant, warm climate year-round. Cape Town and the southernmost part of the Western Cape have a Mediterranean-type climate, with mild, changeable winters and a warm to hot summer. Winter brings gentle rain showers around Cape Town and the West Coast. KwaZulu-Natal enjoys a subtropical and sunny climate all year. Snow sometimes falls in the Drakensburg and Cape Mountains in winter. The interior is dry and warm in winter, with cool nights. Summers are hot with more frequent rain. For weather applicable to your travel time, please see the following website:  http://www.weathersa.co.za/
Clothes to Wear:
South Africa is noted for its warm year-round climate. Summer (November to January) brings inland temperatures that can shoot well over 100º F, while winter (May to August) temperatures are cool seaside and dip near freezing in some inland and mountainous regions.
Pack lightweight summer clothes when visiting during the hotter months. Take an assortment of shorts, T-shirts, skirts and sundresses. It's wise to have a sweater or long-sleeved button-down shirt for layering, should the evenings get cool, and to keep your skin protected from insect bites.
Stash a swimsuit, sunscreen, sunglasses and a hat if you plan to hit any of South Africa's renowned beaches. Bring long-sleeved shirts, long pants, a wide-brimmed hat and a heavy windbreaker if you plan to visit any wild game reserves. Leave the bright colors at home; neutral tones make you less conspicuous to those you'll be observing.
Pack a coat, sweaters and heavier socks when visiting during winter. Take sandals if you plan to visit the bigger cities or the beach towns. Comfortable walking shoes or athletic shoes will keep your feet happy while visiting the reserves or doing a light hike in the mountainous areas.
LOGISTICAL
Entry and Exit Requirements:
Passports must be valid for at least 6 months after departure. Travelers are advised to have two consecutive blank pages in their passports; one for the South African temporary residence permit sticker that is issued upon entry to the country, and an additional page to allow for entry and exit stamps for South Africa and other countries to be visited en route to South Africa or elsewhere in the region. Travelers without the requisite blank visa pages in their passports may be refused entry into South Africa, fined and returned to their point of origin at their own expense. As a general precaution, all travelers are advised to carry a photocopy of the photo/bio information page of their passport and keep it in a location separate from their passport. Visitors to South Africa do not require visas for stays of up to 90 days. In the event a traveler overstays that period without a permit issued by the South African Department of Home Affairs, he or she may be subject to a substantial fine.
A value added tax is levied on most goods and services offered for sale in South Africa. A VAT refund is offered to Tourists at their point of exit from an International Airport – all goods must be produced (they cannot be in your checked luggage). Proof of purchase must be shown.  You need an original tax invoice reflecting the seller's name, address VAT registration number, invoice number, your name and full postal address, a complete description of the item/s purchased, the cost of the item/s in Rand with the VAT reflected separately or the cost including VAT with a statement that the price includes VAT.
NOTE: Carbon copies, photostat copies or facsimiles of the original tax invoices are not acceptable. You must insist on the correct documentation when purchasing an item
It is always best to check the South African government website for the most up to date visa information. You may contact the South African Embassy, at 3051 Massachusetts Ave, NW, Washington, D.C. 20008. Telephone: (202) 232-4400 or the Indian consulates in Chicago, Los Angeles, and New York.
South Africa rules on minors entering the country:
Parents traveling with children under 18 years old will be required to provide an unabridged birth certificate of all traveling children. This applies even when both parents are traveling with their children. When children are traveling with guardians, these adults are required to produce affidavits from parents proving permission for the children to travel. For complete information, please contact South African Embassy at (202) 232-4400
Embassy and High Commission Locations:
Embassy of the United States of America
877 Pretorius Street, Arcadia
Pretoria 0001, South Africa
Tel: (2712) 431-4000
Fax: (2712) 431-5504
 Canadian High Commission
1103 Arcadia St. (Crn Hilda/Arcadia
Streets, Hatfield 0028, Pretoria, South Africa
Tel: (2712) 422-3000
http://www.canadainternational.gc.ca/southafrica-afriquedusud/splash.aspx
HEALTH
Information on vaccinations and other health precautions, such as safe food and water precautions and insect bite protection, may be obtained from the Centers for Disease Control and Prevention's (CDC) hotline for international travelers at 1-800-CDC-INFO (1-800-232-4636) or via the CDC website at http://wwwnc.cdc.gov/travel. For information about outbreaks of infectious diseases abroad, consult the infectious diseases section of the World Health Organization (WHO) website at http://www.who.int/topics/ infectious diseases/en/. The WHO website also contains additional health information for travelers, including detailed country-specific health information.
You are also encouraged to consult with your own doctor and health network, some of which operate travel clinics as part of their services.
BANKS & CURRENCY
The local unit of currency is the Rand (R) = 100 cents. With some exceptions, banks are open 9 am to 3:30 pm, Mondays through Fridays, and 8:30 am to 11 am on Saturdays, but those at the airports adjust their hours of opening to accommodate international flights.
MasterCard, American Express, Diners Club and Visa are accepted. In some small towns, you may find you'll need to use cash.
There is free import of foreign currency, subject to declaration. The export of foreign currency is limited to the amount declared on arrival.
You can exchange currency at Johannesburg International Airport or at the larger branches of South Africa's banks, such as ABSA, Standard Bank, and Nedbank's operations. Look for the bureau de change signs at these banks. ATM's are scattered all over cities, especially at shopping centers. Be careful when using them, though. Don't let anybody distract your attention, and try to avoid using ATM's in quiet spots at night.
COMMUNICATIONS
Fully automatic dialing is available to most parts of the world. Country code: 27. Outgoing international code: 09. Rates are found in the front section of all directories. Calls from hotels carry a surcharge.
When it comes to internet and fax connections, most international hotels offer wireless connections either in guest rooms, business centers or some restaurants.  An essential aspect of telecommunications in South Africa is the South African Post Office, which over and above normal postage by air, offers various express and courier services.
Cell Phone Usage:
Please contact your cell phone provider to determine whether your contract includes coverage in the country you are visiting. Depending on your contract you may have to add international services and/or country specific services.
ENTERTAINMENT
Food and Drink:
A thriving agricultural sector yields excellent fresh produce, meat, fruit and wines and the long coastline produces very fresh and cheap seafood. Oysters and linefish (examples of which are Kingklip, Kabbeljou, Cob and Red Roman) are particularly good.
Typical South African dishes include sosaties (a type of kebab), bobotie (a curried mince dish), bredies (meat, tomato and vegetable casseroles, of which waterblommetjiebredie, made with a local water plant, is particularly good), crayfish (or rock lobster) and many other seafood dishes traditional to the Western Cape province. Curries and chutneys are excellent. Biltong (seasoned dried meat) is a savory specialty. Potjiekos, a casserole cooked for hours in an iron pot, usually outside, is excellent. Stywepap or Poetoepap, a sort of polenta made with white maize, is widely eaten with meat. Although there is a wide choice of self-service restaurants, most have table service.
There are excellent local red and white wines, Sherries, brandies and some unusual liqueurs. Beer is also very good. Shebeens offer Umqombothi, a home-brewed sorghum beer. Bars/cocktail lounges have bartender service. 'Liquor stores' are open 09:00am-06:00pm weekdays and close at 1300 Saturday, although alcohol is now available in supermarkets outside these hours and under certain circumstances on a Sunday. One can generally buy alcohol at shebeens at any time.
Nightlife:
Cinemas show a variety of international films. In the large cities there are regular plays, operas and symphony concerts. The local music scene is thriving, and there is a unique South African 'township' jazz style, exponents of which can be seen in all large cities. There are a number of nightclubs and discotheques open until late. The large hotels usually have live music or cabaret.
Shopping:
Most tourists are shocked at how metropolitan and sophisticated a South African shopping experience can be. Large cities boast expansive, modern multi storey malls which house hundreds of shops, peddling local and international designer labels and goods. Generally speaking, there aren't many internationally available items (designer clothing items and electronic goods) available in South Africa that you wouldn't find cheaper elsewhere in the world. The only thing considered relatively inexpensive in South Africa, compared to some global standards, is the cost of bought and served food and drink.
Most visitors will be more interested in the local crafts, curios and traders rather than designer shopping, and these are quite easy to find in South Africa. At the malls, you will likely find African themed goods on sale, which are probably high quality and very attractive, but you will pay more for them. In all major towns you will easily find craft or flea markets, especially along the Durban esplanade or the Cape Town Waterfront. Johannesburg has the large Bruma Lake market readily accessible to all, near the airport. Heading up North towards the famed Sun City, through Hartbeespoort Dam, will give you plenty of opportunities to pick up some locally crafted goods and some home style meals as well.
BAGGAGE
Baggage rules for international and domestic air travel have changed much in recent years, differ from carrier to carrier and these days even may cover your on-board bags. Checking luggage may cost a separate fee or may be free depending on your personal status with the carrier. We therefore encourage you to read your ticket's small print and/or contact your carrier for exact rules.
 For tours that include light aircraft transfers and/or charter flights there is a maximum weight allowance of 33-44 lbs. per person. Soft-sided luggage is required and strict limitations are imposed. Preferably, travel light, if possible. If not, it is recommended to include a soft-sided bag inside your regular luggage to carry this allowable weight. For overland tours, space for luggage in safari vehicles is limited. Extra baggage will be stored wherever possible (additional charges may apply, please request information from your sales consultant).
All luggage checked in at Johannesburg's OR Tambo International Airport must comply with the following requirements:
1. Bags must have at least one flat surface.
2. No long shoulder straps which can hamper movement on luggage belts.
3. If the soft bag has a shoulder strap, this needs to be taken off before checking in the luggage.
4. If the bag has more straps, like soft backpacks, they need to be wrapped in plastic.
 TIPPING
Tipping is customary in South Africa. A 10% tip — or gratuity — is acceptable when dining in restaurants. You can tip more than 10% if you feel you have received exceptional service.
We recommend R100-R200 per person per day (approx $10-$20) for your tour guide or game ranger for a full day's service. R50-R100 per person per day (approx $5-$10) for your tracker if applicable. And additional R50-R70 per person per day (approx $5-$7) for lodge/camp staff (usually a tip jar at the reception desk which is shared amongst the staff). When meals are included in your tour package, a nominal tip of R10-R30 ($1-$3) is appreciated by the waitstaff. A tip of R10 ($1) per piece of luggage is acceptable for porters in hotels and lodges. For coach drivers we recommend R10-R20 ($1-$2) per person for airport transfers, R20-R40 ($2-$4) for half day service and R40-R60 ($4-$6) for full day service.
LAUNDRY
Laundry service is available at most hotels in the main centers. Generally you should allow about 24-hours before the item is returned to you, however, some have an emergency service available at an extra charge.
PHOTOS & VIDEOS
You will find incredible photographic opportunities on your safari. Please be courteous when taking pictures of the local people. In some countries you must refrain from photographing sites such as Military bases and industrial installations. Also be aware of cultural sensitivities when taking pictures of or near churches and other religious sites.
USE OF DRONES 
The use of drones is being legislated by many countries. In some cases drones are already forbidden and their unauthorized use may carry severe penalties. If you plan to travel with a drone please contact the embassy or consulate of the country you wish to visit.