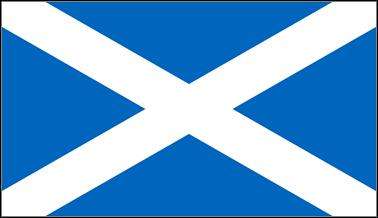 GEOGRAPHY
The mainland of Scotland comprises the northern third of the land mass of the island of Great Britain, which lies off the north-west coast of Continental Europe. The total area is 30,414 sq miles (78,772 km2), comparable to the size of the Czech Republic. Scotland's only land border is with England, and runs for 60 miles (96 km) between the basin of the River Tweed on the east coast and the Solway Firth in the west. The territorial extent of Scotland is generally established by the 1237 Treaty of York between Scotland and the Kingdom of England and the 1266 Treaty of Perth between Scotland and Norway. Important exceptions include the Isle of Man, which having been lost to England in the 14th century is now a crown dependency outside of the United Kingdom; the island groups Orkney and Shetland, which were acquired from Norway in 1472; and Berwick-upon-Tweed, lost to England in 1482.
The geographical center of Scotland lies a few miles from the village of Newtonmore in Badenoch. Rising to 4,409 feet (1,344 m) above sea level, Scotland's highest point is the summit of Ben Nevis, in Lochaber, while Scotland's longest river, the River Tay, flows for a distance of 118 miles (190 km) traversed by such major rivers as the Rhine, Danube and Elbe. Glaciers are found in the Alpine region, but are experiencing deglaciation. Significant natural resources are iron ore, coal, potash, timber, lignite, uranium, copper, natural gas, salt, nickel, arable land and water.
HISTORY
Scotland's recorded history began with the arrival of the Roman Empire. Despite building two impressive fortifications – Hadrian's Wall to defend the northern border, and the Antonine Wall across Central Scotland to advance it forward – the Romans never truly conquered Caledonia. Unable to defeat the Caledonians and Picts, the Romans eventually withdrew and over time retreated away from Britain.
Vikings were accomplished seamen at this point in history, and around 800 AD they began migrating from Norway and Denmark, crossing the treacherous North Sea to trade and settle in Scotland. While Vikings began to settle in the west, the Picts were forging a new kingdom; the Kingdom of Alba. A succession crisis brought unrest to Scotland after the death of Alexander III. England's monarch, Edward I, believed he should be recognized as overlord of Scotland and his troops marched north in a series of bloody sieges. In 1297, Edward's army planned to cross the River Forth at Stirling Bridge; the Scots seized the opportunity to attack at the crossing of the River Forth, the Stirling Bridge, forcing the English army to retreat. It was here one of Scotland's most famous figures, William Wallace, earned his place in the history books forever. Mary, newly born at Linlithgow Palace, was just six days old when her father, James V, died and she was crowned Queen of Scots. Her reign was marked by Catholic-Protestant conflict and civil unrest in a period known as the 'rough wooing'. In England, worried about the possibility of a Catholic plot against her, Elizabeth I imprisoned Mary and later, after almost 19 years of captivity, had her executed at Fotheringhay Castle in Northamptonshire in 1567 at the age of 44.
In 1707 The Act of Union brought Scotland even closer to Britain by creating a single Parliament of the United Kingdom of Great Britain at the Palace of Westminster.
The ideas from philosophers living in Scotland during The Age of Enlightenment shaped the modern world. The intellectual movement sought to understand the natural world and the human mind and ranged across philosophy, chemistry, geology, engineering, technology, poetry, medicine, economics and history. Figures like Thomas Hobbes, David Hume, Adam Smith, Robert Burns and Sir Walter Scott are still celebrated for their achievements.
Industrial advances and wealth accumulated from the trade of tobacco, sugar and cotton bring about the dawn of urban Scotland at the turn of the 19th century. The country shifted from rural to urban, and huge towns, massive factories and heavy industry took hold. Mining, shipbuilding and textiles were very important to Scotland's development during this time.
The drilling of the first North Sea oil well was considered a major industrial achievement of the time, creating a huge supporting industry in Scotland and giving the UK access to oil made at home for the first time.
THE PEOPLE
Scots, are a nation and ethnic group native to Scotland. Historically, they emerged from an amalgamation of the Picts and Gaels, who founded the Kingdom of Scotland (or Alba) in the 9th century, and are thought to have been ethno linguistically Celts. Later, the neighboring Cumbrian Britons, who also spoke a Celtic language, as well as Germanic-speaking Anglo-Saxons and Norse, were incorporated into the Scottish nation.
SOCIAL CONVENTIONS
In a more formal situation (such as meeting your tutor or landlord for the first time) it is usual to shake the right hand of the person you are meeting. It does not matter if you make the first move with your right hand. Kissing and embraces are not as common as it is in other countries.
There is no special significance to the left and right hands. Both can be used for giving and receiving presents, although the right hand is always used for shaking hands.
Avoiding eye contact as a sign of respect for an older person or authority figure is not uncommon. Try to look at people when speaking to them, although it is usual to avoid eye contact with strangers.
To arrive late, even by a few minutes, is considered impolite.
It is important to be aware that in Scotland, female and male folks are equally respected and accepted.
Do not be worried about saying no. In Scotland, a "no" is not considered impolite. Honestly is much preferred, so that people know what you really mean. If you do not wish to do something do not worry about saying so.
Smoking is not allowed in any public building in Scotland, which includes cinemas, restaurants, cafes, pubs, bars, and public transport.
LANGUAGES
English, Scottish, Scottish Gaelic
GOVERNMENT
Scotland has limited self-government within the United Kingdom, as well as representation in the UK Parliament. Executive and legislative powers respectively have been devolved to the Scottish Government and the Scottish Parliament at Holyrood in Edinburgh since 1999. The UK Parliament retains control over reserved matters specified in the Scotland Act 1998, including UK taxes, social security, defense, international relations and broadcasting. The Scottish Parliament has legislative authority for all other areas relating to Scotland, as well as a limited power to vary income tax.
The Scottish Parliament can give legislative consent over devolved matters back to the UK Parliament by passing a Legislative Consent Motion if United Kingdom-wide legislation is considered more appropriate for a certain issue. The programs of legislation enacted by the Scottish Parliament have seen a divergence in the provision of public services compared to the rest of the UK. For instance, university education and care services for the elderly are free at point of use in Scotland, while fees are paid in the rest of the UK. Scotland was the first country in the UK to ban smoking in enclosed public places.
TIME ZONE
Local time is UTC +00:00
ELECTRICITY
220 – 240 Volt
CLIMATE
The climate of Scotland is temperate and oceanic, and tends to be very changeable. As it is warmed by the Gulf Stream from the Atlantic, it has much milder winters but cooler, wetter summers.
The west of Scotland is usually warmer than the east, owing to the influence of Atlantic Ocean currents and the colder surface temperatures of the North Sea. Tiree in the Inner Hebrides, is one of the sunniest places in the country.  Rainfall varies widely across Scotland. The western highlands of Scotland are the wettest, with annual rainfall in a few places exceeding 118.1 inches (3,000 mm). In comparison, much of lowland Scotland receives less than 31.5 inches (800 mm) annually. Heavy snowfall is not common in the lowlands, but becomes more common with altitude. Braemar has an average of 59 snow days per year, while many coastal areas average fewer than 10 days of lying snow per year.
LOGISTICAL
Entry & Exit Requirements:
No minimum passport validity is required for U.S. citizens entering the United Kingdom. However, we always recommend a minimum of 6 months passport validity. Other passports please inquire with the closest UK embassy.
Travelers transiting through the UK on their way to a continental European country should have a passport that is valid for 6 months.
Visas must be obtained prior to travel for specific categories of visitors. Visit the UK Visas and Immigration (UKVI) website to determine whether you need a visa to enter the United Kingdom. We cannot intervene on your behalf when applying for a visa, nor can we assist if you are denied entry into the United Kingdom.
Embassy Locations:
US – Embassy Location:
3 Regent Terrace,
Edinburgh EH7 5BW, UK
Phone +44 131 556 8315
Hours 8:30am – 5pm
Embassy of Canada to Scotland:
High Commission of Canada
Consular Services
Canada House
Trafalgar Square
London SW1Y 5BJ
Ph 0770 2359 916
HEALTH
Information on vaccinations and other health precautions, such as safe food and water precautions and insect bite protection, may be obtained from the Centers for Disease Control and Prevention's (CDC) hotline for international travelers at 1-800-CDC-INFO (1-800-232-4636) or via the CDC website at http://wwwnc.cdc.gov/travel. For information about outbreaks of infectious diseases abroad, consult the infectious diseases section of the World Health Organization (WHO) website at http://www.who.int/topics/infectious_ diseases/en/. The WHO website also contains additional health information for travelers, including detailed country-specific health information.
BANKS & CURRENCY
The currency in Scotland is not different from the rest of the United Kingdom in that it is also consists of British Pounds (£), although Scottish banks print their own versions. These "Scottish notes" are widely accepted throughout the United Kingdom, although cases have been reported of a few shops outside Scotland refusing them. You will, however, not have a problem when using English notes anywhere in Scotland. If you are visiting from further afield, it is usually wisest to exchange your money into the local currency. Scotland is a well-developed country with a good economic infrastructure. For the average tourist, this means that they will find it relatively easy to get about and to exchange their money. Scotland also does not have any import or export restrictions on any form of money so visitors will not have to fret about whatever currency they carry into the country with them.
The currency of Scotland is the GBP Pound (£). One pound is comprised of 100 pence and coins can be obtained in 1p, 2p, 5p, 10p, 20p, 50p, £1 and £2 denominations. Bank notes are commonly divided into £5, £10, £20 and £50 amounts. Scottish banks also issue a £1 note, which can be used as legal tender anywhere in the United Kingdom. Money can be exchanged in banks, at foreign exchange bureaus and hotels. The exchange bureaus are generally open for longer than banks are but charge higher commission rates. Banks are usually open from 9:30am to 4:30pm from Monday to Friday. Some banks are also open on Saturdays.
COMMUNICATION
The United Kingdom including Scotland has a modern communications infra structure lacking little. To call a telephone number in Scotland from abroad, use your International dialing code plus the country code for UK (44). All Scottish/UK telephone numbers begin with a "0" but for international calls, drop this leading zero. For example 0141 123 4567 becomes 011 44 141 123 4567.
Cell Phone Usage:
Please contact your cell phone provider to determine whether your contract includes coverage in the country you are visiting. Depending on your contract you may have to add international services and/or country specific services.
ENTERTAINMENT
Scotland's rich heritage in music and performance makes it the perfect place to enjoy theatre, dance and opera. A number of festivals every year, including the world-famous Festival Fringe and International Festivals, take place in Edinburgh during the summer, showcasing both established and emerging talents from across the globe.
Scotland is full of leading contemporary fashion designers – who not only dominate the catwalk but also the high street.
Some of Scotland's leading designers include Christopher Kane, Jonathan Saunders, Holly Fulton and Louise Gray. Between them they have worked with industry leaders, featured on the cover of magazines and collected a host of awards. Renowned across the world, the Scottish fashion industry exports to more than 150 countries worldwide.
FOOD & DRINK
The availability of certain foodstuffs in Scotland, in common with the other parts of the United Kingdom, suffered during the 20th century. Rationing during the two World Wars, as well as large-scale industrial agriculture, limited the diversity of food available to the public. Imports from the British Empire and beyond did, however, introduce new foods to the Scottish public.
During the 19th and 20th centuries there was large-scale immigration to Scotland from Italy, and later from the Middle East, India, and Pakistan. These cultures have influenced Scots cooking dramatically. The Italians reintroduced the standard of fresh produce, and the later comers introduced spice. With the enlargement of the European Union in the early years of the 21st century, there has been an increase in the population of Eastern European descent, from Poland in particular. A number of specialty restaurants and delicatessens catering for the various new immigrants have opened in the larger towns and cities.
SHOPPING
Celtic Jewelry, sheepskins of which black ones are rarer than white ones, Sweaters of all sorts, tartans, and fabrics. And, of course Scotch Whisky and single malts.
BAGGAGE
Baggage rules for international and domestic air travel have changed much in recent years, differ from carrier to carrier and these days even may cover your on-board bags. Checking luggage may cost a separate fee or may be free depending on your personal status with the carrier. We therefore encourage you to read your ticket's small print and/or contact your carrier for exact rules.
TIPPING
About 10% is customary if you were satisfied with the service. Tour directors and coach drivers may be tipped based on $1.00 per person per day for the driver and $2.00 per person per day for the tour director (2017). If you travel on a private arrangement with a tour director performing well you may want to tip a bit more.
LAUNDRY
Laundry service is available at most hotels in the main centers. Generally you should allow about 24-hours before the item is returned to you, however, some have an emergency service available at an extra charge. Pack lightly and rather use such laundry services on a longer trip. It may in fact save you baggage fees with the airlines (see baggage).
PHOTOS & VIDEOS
In some countries you must refrain from photographing sites such as Military bases and industrial installations. Also be aware of cultural sensitivities when taking pictures of or near churches and other religious sites. It is always courteous to ask for permission before taking photographs of people.
USE OF DRONES 
The use of drones is being legislated by many countries. In some cases drones are already forbidden and their unauthorized use may carry severe penalties. If you plan to travel with a drone please contact the embassy or consulate of the country you wish to visit.