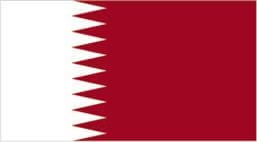 GEOGRAPHY
Qatar covers an area of about 4,416 sq miles on a peninsula bordering the Persian Gulf and Saudi Arabia. The country is a little smaller than Connecticut and almost twice the size of Delaware. The area is mostly flat and barren desert in the east while sand dunes and salt flats can be found in the south and south-west portion. Most of the terrain is made up of a fine powder dust from limestone.
HISTORY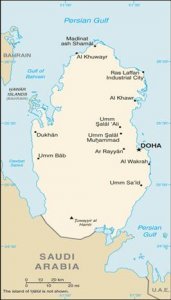 The first presence of people in the land of Qatar goes back 50,000 years. Several empires have ruled over the land early on including the Seleucid, the Parthians and the Sasanians. Islam was introduced to the people in 628 AD after Muhammad sent an envoy to Munzir ibn Sawa who was the Sasanid governor of Eastern Arabia. After Arab tribes conquered Bahrain in 1783, the Al Khalifa took control of Bahrain and the mainland Qatar. This lead to an era of friction between the Wahhabi of Najd and the Al Khalifa. During WWI, the Ottomans withdrew from the area in 1915 and Qatar became a British protectorate in 1916. During the 1950s and 1960s, the country grew economically and socially with increased oil revenues. In1968, Qatar and eight other Arab states formed a federation of Arab emirates. After no agreement was reached with these other Arab states to form a union, Qatar declared its independence on September 3, 1971.
THE PEOPLE
Many Qataris are descended from a number of migratory Arab tribes that came to Qatar in the 18th century, mainly from the neighboring areas of Nejd and Al-Hasa and others from the Omani tribes. The majority of the inhabitants live in Doha, the capital of Qatar. Most Qataris are Sunni Muslims. Hindus are another large population, but are the minority.
SOCIAL CONVENTIONS
While it is in the process of liberalization, Qatar has not lost sight of its deeply ingrained religious and cultural heritage: alcohol is only served in hotel bars and restaurants; work calendars are very much decided by religious commitments such as Ramadan; traditional sports such as falconry and camel-racing remain popular pastimes. Indeed, much like the geometrical designs in Islamic Art found all over the country, Qatar is a complex, yet beautiful country, steeped in its traditional history.
Faith-Based Travelers: Religion is a very sensitive issue in Qatar; treat any discussions on religion with care and caution. The law provides for a prison sentence of up to seven years for defaming, desecrating, or committing blasphemy against Islam, Christianity, or Judaism. The law also restricts public worship for non-Islamic faiths. Attempts to convert a member of another religion or even "share your faith" can be considered "proselytizing." Penalties for such actions include deportation or imprisonment.
Business hours
The work week is from Sunday to Thursday, with most offices closed on Friday and Saturday. Government offices working hours are from 7:00am to 2:00pm.
 Public holidays
National Sports Day – second Tuesday in February
Eid Al Fitr – may vary with lunar calendar
Eid Al Adha – may vary with lunar calendar
Qatar National Day – December 18
LANGUAGES
Arabic is the official language with English used for business matters. Hindi and Urdu are also widely spoken.
GOVERNMENT
Absolute Monarchy
TIME ZONE
GMT +3
ELECTRICITY
Standard voltage is 240 V and standard frequency is 50 Hz. Power plugs and sockets are type D and G.
CLIMATE
Summers in Qatar are long and last from the months of May through September. It is characterized by intense heat and alternating dryness and humidity with temperature reaching up to 122 F.  Dust storms may appear suddenly, blotting out the sun and disrupting transportation and other services.
Clothes to Wear:
Lightweight clothes for warmer months are required. Medium-weight clothing is recommended for winters. Women should carry a light shawl wherever you go so that you can cover yourself if you visit a traditional place, such as a temple. It can also be used to keep you warm when the air-conditioning is too high, which is usually the case in public buildings! Pack a broad-brimmed hat and sunglasses to protect you from the sun, especially if you are planning to go to the beach. Wear comfortable shoes made for walking, to keep you from getting blisters or sore arches.
LOGISTICAL
Entry & Exit Requirements:
Requirements for Entry:
Passport valid for at least six months
Visa – see specifics below
Be sure to leave Qatar before your visa expires. The Qatari Government charges as much as USD $55 for each day that you overstay your visa, up to USD $3,300.
For further information, see the Qatari government website.
 Tourist visas: When traveling on a U.S. tourist passport, the Government of Qatar does not require prior visa arrangements and travelers may obtain a free visa waiver upon arrival, provided the traveler has six months validity in their passport
and a return or onward ticket. The waiver is valid for thirty days from the date of issuance and entitles the holder to spend up to thirty days in Qatar, or multiple entries during the 30-day validity. The waiver may be extended for a further thirty days. More information can be found on the Qatari government website.
For information on residence permits, see the Qatari government or U.S. Embassy website. In general, you will need:
Qatar does not recognize dual nationality.  If you hold Qatari citizenship, Qatari law requires that you enter and exit on your Qatari passport. Qatari authorities may confiscate your U.S. passport if you hold Qatari/U.S. dual nationality. Should this happen, contact the U.S. Embassy.
 Military Personnel: Military personnel should consult the Department of Defense Foreign Clearance Guide before traveling, since different entry/exit requirements may apply. For further information, call the Host Nation Coordination Cell of the 379th Air Expeditionary Wing at 011-974-5551-0815.
 HIV/AIDS Restrictions: Some HIV/AIDS entry restrictions exist for visitors and foreign residents of Qatar.  Medical exams are required for all long-term visitors and residents. For more details, please obtain information from the Embassy of Qatar before traveling.
 Customs: Customs regulations are strict regarding alcohol, narcotics, pork products, weapons or weapons-related articles (hand cuffs, laser pointers, etc.), and pornographic/sexually-related materials. See the State of Qatar's website for specific information regarding Qatar customs requirements.
Tobacco allowance: 400 cigarettes.
Personal items and gifts up to a maximum value of QAR 3,000.
Imports of alcohol and narcotics are prohibited.
Embassy Locations:
U.S. Embassy Doha
Al-Luqta District
22nd February Street
PO Box 2399
Doha, Qatar
Telephone: +(974) 4496-6000,
extension 0 or 6600
Emergency After-Hours Telephone:
+(974) 4496-6000, extension 0 or 6600,
Fax: +(974) 4488-4298
ACSDoha@state.gov or ConsularDoha@state.gov
Embassy of Canada to Qatar
Tornado Tower,
Corner of Majlis Al Taawon Street and Al Funduq Steet,
P.O. Box 24876
Doha, State of Qatar
Telephone: (974) 4419 9000
Fax: (974) 4419 9035
E-mail: dohag@international.gc.ca
Hours of operation
Sunday to Wednesday
8:00 am to 4:30 pm
Health:
Modern medical facilities and Western-style pharmacies are available. Doctors and hospitals expect immediate cash payment for health services.
The Embassy is not able to pay for any medical bills. Please be aware that U.S. Medicare does not apply overseas.
Medical Insurance: Make sure your health insurance plan provides coverage overseas. Most care providers overseas only accept cash payments.
We strongly recommend supplemental insurance to cover medical evacuation.
If traveling with prescription medication, check with the Qatari customs authority on proper travel procedures and/or the Ministry of Public Health about what prescription drugs are allowed.
Always carry your prescription medication in original packaging with your doctor's prescription.
Vaccinations: Be up-to-date on all vaccinations recommended by the U.S. Centers for Disease Control and Prevention.
Information on vaccinations and other health precautions, such as safe food and water precautions and insect bite protection, may be obtained from the Centers for Disease Control and Prevention's (CDC) hotline for international travelers at 1-800-CDC-INFO (1-800-232-4636) or via the CDC website at http://wwwnc.cdc.gov/travel. For information about outbreaks of infectious diseases abroad, consult the infectious diseases section of the World Health Organization (WHO) website at http://www.who.int/topics/infectious_ diseases/en/. The WHO website also contains additional health information for travelers, including detailed country-specific health information.
 Travelers Who Require Accessibility Assistance: Access and accommodation is limited, given the scarcity of ramps, TTY or TDD communication systems, Braille signs, and/or appropriate restroom facilities. Public transportation is generally inaccessible.
Banks & Currency:
The monetary unit of Qatar is the riyal (abbreviated to QR or QAR). The exchange rate is pegged to the dollar and fixed at US $1 = QR3.64. There are no foreign exchange controls. ATMs can be found in many locations and most shops and restaurants accept major credit cards.
Communication:
Country code: 974. There is a modern system centered in Doha; notable efforts to deploy 5G wireless technology; steady LTE networks; one of the most connected markets in the Middle East with good broadband penetration, ADSL, Fiber-to-the-Home (FttP), wireless and mobile services.
Internet country code: .qa
 Cell Phone Usage:
Please contact your cell phone provider to determine whether your contract includes coverage in the country you are visiting. Depending on your contract you may have to add international services and/or country specific services.
ENTERTAINMENT:
Food and Drink:
Despite limited agriculture, traditional Qatari food can be surprisingly varied. While locally caught fish are always in plentiful supply, many staples have to be imported. Over the years, local dishes have been influenced by the cuisine of the Indian Subcontinent, Iran, the Levant and North Africa.
They include: machboos, a stew of richly spiced rice with seafood or meat, mutton served with yogurt; ghuzi, a whole roast lamb on a bed of rice and nuts; and stuffed boiled sheep or goat served with seasoned rice.
This centrepiece of the meal is generally accompanied by a variety of side dishes, including chicken, fish and vegetables and salad. Locally grown dates, fresh fruit and desserts such as halwa or Umm Ali round off a typical Qatari meal.
 Nightlife:
Nightlife in Qatar may be different from Western culture as most residents are religious and follow Islam. This may pose some restrictions as alcohol is forbidden in some areas. Despite these religious influences, the people of Qatar do frequent pubs, nightclubs, bars and discos scattered across the city, as they consider it the right place for relaxing.
There are many hotels too that add their share to nightlife in the country, as they have in-house clubs that attract locals and tourists alike.
Shopping:
Since ancient times, traders and merchants have congregated in traditional markets to both socialise and to provide for the daily needs of the local community. These souqs are still very much part of modern life in Qatar. Some specialize in a particular product area, such as fish or fruit and vegetables.
Others cover a vast and varied range of different items though, even here, certain areas of the market are often devoted to groups of adjacent shops all selling related products, such as clothing and fabric, gold and jewellery, spices or kitchen wares.
Popular purchases include: carpets, rugs and textiles; Bedouin weaving; Arabic coffee pots; antique silver; incense burners; prayer beads; inlaid jewellery boxes; miniature dhows; brass items; and regional art and handicrafts.
In contrast to the atmosphere and bustle of the souqs, there are many large stand-alone retail outlets lining the streets of Doha's main shopping districts, as well as a fine array of large and small malls offering visitors a total shopping experience in air-conditioned indoor comfort.
BAGGAGE
Baggage rules for international and domestic air travel have changed much in recent years, differ from carrier to carrier and these days even may cover your on-board bags. Checking luggage may cost a separate fee or may be free depending on your personal status with the carrier. We therefore encourage you to read your ticket's small print and/or contact your carrier for exact rules.
TIPPING
Most restaurants and bars already include a 10% service charge in the bill. It is customary to leave a bit extra for good service. When the service charge is not included in the bill, 10-15% is the general rule. Tips are not expected by taxi drivers, although most people tell the driver to keep the change. Airport and hotel porters should receive the equivalent of US$ 1.00 per bag.
LAUNDRY
Most hotels will arrange laundry services for guests.
PHOTOS & VIDEOS
In some countries you must refrain from photographing sites such as Military bases and industrial installations. Also be aware of cultural sensitivities when taking pictures of or near churches and other religious sites. It is always courteous to ask for permission before taking photographs of people.
USE OF DRONES 
The use of drones is being legislated by many countries. In some cases drones are already forbidden and their unauthorized use may carry severe penalties. If you plan to travel with a drone please contact the embassy or consulate of the country you wish to visit.