GEOGRAPHY
The geography of Northern Ireland includes a rugged coastline in the north and northeast and fruit-growing regions to the south.  In the west are the Sperrin Mountains and the lakelands of Fermanagh. In the east is the Antrim plateau, and further south are the Mountains of Mourne which stretch down to the sea. Northern Ireland sits on the Irish Island and has borders to the West and South with the Irish Republic. The North Channel lies to the East and the North Atlantic to its north.
HISTORY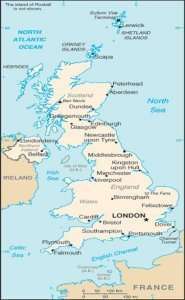 The history of Northern Ireland is tumultuous.  The people's culture and traditions have come from England and Ireland. Religion has played an important role.
In the 16th century, Henry VIII claimed the Kingdom of Ireland.  England and Presbyterian Scots began settling in the area.  Discrimination against the Catholics began and continued through the reigns of Oliver Cromwell and William of Orange.  In 1801, Ireland was in union with Britain.  The 1920 Partition of Ireland gave home rule to its six north-eastern counties – County Antrim, County Armagh, County Down, County Fermanagh, County Derry/Londonderry, and County Tyrone – and created the Irish Free State (now the sovereign Republic of Ireland) ruled from Dublin.  This remains the root cause for the ethno-nationalist violence that overshadowed Northern Ireland for much of the 20thcentury.  The most strife-ridden period, from 1968-1998, is known as the Troubles.
On Sunday, January 30, 1972, a demonstration by Catholic civil rights supporters turned violent when British soldiers opened fire, killing 13 and injuring 14 others.  "Bloody Sunday" brought more support for the Irish Republican Army (IRA), which advocated violence against Great Britain to bring about a withdrawal from Northern Ireland.  In the 1970s – 80s, there were civil disorders, internments, troops on the streets and bombing campaigns that spread throughout the United Kingdom before peace negotiations began in the mid-1990s.  The Good Friday Agreement (officially the Belfast Agreement) was signed on April 10, 1998 which included the withdrawal of British troops and the cessation of IRA activities. The Northern Ireland Assembly was set up in 1998. Power is shared today between Nationalists and Unionists.  A historic meeting between Gerry Adams of the republican Sinn Fein and ardent nationalist Ian Paisley of the Democratic Unionist Party took place in 2007 as the Assembly was restored.  Unfortunately the assembly was again suspended in 2017 and remains so today.
THE PEOPLE
Northern Irish people are people born in Northern Ireland or people who are entitled to reside in Northern Ireland without any restriction on their period of residence. Most Northern Irish people either identify as Northern Irish, Irish, British, or some combination thereof.
The Irish are a Gaelic people but through the centuries other folks arrived and stayed. Vikings, Anglo-Normans, Lowland Scotts and the English are all part of today's mix.
SOCIAL CONVENTIONS
Visitors should avoid expressing opinions on political or religious topics.  In Northern Ireland, the people are very friendly and welcoming to tourists.
Handshaking is customary when introduced to someone for the first time.  Normal social courtesies should be observed when visiting someone's home and a small present such as flowers or chocolates is appreciated.  It is polite to wait until everyone has been served before eating.  When dining, it is considered rude to slurp food, eat noisily, or make noise with cutlery.
In general terms, the Irish people are renowned for their congeniality, good humor and easy-going nature, and the pub remains perhaps the ideal setting in which to get a true feel for the pulse of the nation.  Smoking is banned in all public enclosed spaces, including pubs, bars, and restaurants.
LANGUAGES
English is the official language while Irish (Gaelic) is the original language of the Irish and still spoken by a minority.
GOVERNMENT
A consociational (sharing of power) devolved government within a constitutional monarchy.
TIME ZONE
UTC 0 (5 hours ahead of New York, during Standard Time)
Daylight savings time +1hr, begins last Sunday in March; ends last Sunday in October.
ELECTRICITY
230 volts, frequency 50Hz. Power plugs and sockets are of type G.
 CLIMATE
The weather is similar to the rest of the UK, but Northern Ireland tends to have less sunshine and more rain.  The hilly nature of the terrain tends to attract clouds and westerly winds are common in many areas.  Extremes of temperature are rare but conditions can be changeable.  In broad terms, however, it has an equable climate – the effects of the Atlantic Gulf Stream have a moderating influence, leading to mild winters and relatively cool summers.  The mean annual temperature in Northern Ireland at low-lying altitude is around 48°F (9°C).
The height of summer draws the largest numbers of tourists, particularly to headline attractions such as Giant's Causeway, so it can be advisable to come in spring or autumn to make the most of the reduction in visitors.
 Clothes to Wear
Northern Ireland can be quite windy and wet. Bring a rain jacket or water-resistant hooded coat, boots, and a travel umbrella for extra protection. A warm hat and scarf are useful during the colder seasons. During summer, shorts, sandals, and t-shirts are fine but bring extra layers as weather can change.
LOGISTICAL
Entry & Exit Requirements
A valid passport is required for U.S. and Canadian citizens to enter the United Kingdom.  We recommend a minimum of 6 months passport validity.  Travelers transiting through the UK on their way to a continental European country should have a passport that is valid for 6 months as well.
Visas must be obtained prior to travel for specific categories of visitors. Visit the UK Visas and Immigration (UKVI) website to determine whether you need a visa to enter the United Kingdom.  We cannot intervene on your behalf when applying for a visa, nor can we assist if you are denied entry into the United Kingdom.
Embassy Locations
U.S. Embassy London
33 Nine Elms Lane
London, SW11 7US
United Kingdom
Telephone: + (44)(20) 7499-9000
Emergency After-Hours Telephone: +(44)(20) 7499-9000
Fax: +(44) (20) 7891-3845
Email: SCSLondon@state.gov
Consulates
U.S. Consulate General Belfast, Northern Ireland
Danesfort House, 223 Stranmillis Road,
Belfast BT9 5GR
Northern Ireland, United Kingdom
Telephone: 028-9038-6100 / from the United States: 011 (44)(28) 9038-6100
Emergency After-Hours Telephone: 01253-501106 / from the United States: 011 (44) 1253-501106
Fax: 028-9068-1301 / from the United States: 011 (44)(28) 9068-1301
Email: ConsularBelfast@state.gov
London – High Commission of Canada
Canada House,
Trafalgar Square,
London, SW1Y 5BJ, England,
United Kingdom
Telephone+44 (0) 207 004 6000
Fax+44 (0) 207 004 6053
Email ldn.consular@international.gc.ca
www.unitedkingdom.gc.ca
HEALTH
Information on vaccinations and other health precautions, such as safe food and water precautions and insect bite protection, may be obtained from the Information on vaccinations and other health precautions, such as safe food and water precautions and insect bite protection, may be obtained from the Centers for Disease Control and Prevention's (CDC) hotline for international travelers at 1-800-CDC-INFO (1-800-232-4636) or via the CDC website at http://wwwnc.cdc.gov/travel. For information about outbreaks of infectious diseases abroad, consult the infectious diseases section of the World Health Organization (WHO) website at http://www.who.int/topics/infectious_ diseases/en/. The WHO website also contains additional health information for travelers, including detailed country-specific health information.
BANKS & CURRENCY
Britain's national currency is the pound sterling(symbol:£).
There are lots of places you can change money in Great Britain:
bureaux de change on high streets, in airports and major railway stations
• banks
• travel agents
• Post Offices
It's worth shopping around to get the best deal and remember to ask how much commission is charged.
Scotland and Northern Ireland issue their own pound sterling notes that represent the same value as an English note – you can use English notes anywhere in the UK.  (please note, the Scottish £1 note is not accepted outside Scotland and Northern Irish cash can only be used in Northern Ireland. You can exchange them for English notes in any bank, however.)
Credit Cards
Credit cards, debit cards and contactless payment types are widely used throughout Britain and are the easiest way to pay for things. Visa and Mastercard are the most common type of cards, while American Express and Diners Club cards are less commonly accepted.
Some small shops, guesthouses, markets and cafés may not accept cards or may have a minimum spend (usually around £5), so always check in advance of your purchase. Cards that are accepted are usually displayed in the windows so you can check before you enter.
Currency exchange fees may be assessed by your bank if you use an ATM to withdraw money.  Please check with your bank for details prior to departure.
COMMUNICATION
The United Kingdom has a modern communications infrastructure lacking little. To call a telephone number in Northern Ireland from abroad, use your International dialing code plus the country code for UK (44). All UK telephone numbers begin with a "0" but for international calls, drop this leading zero. For example 0141 123 4567 becomes 011 44 141 123 4567.
Cell Phone Usage
Please contact your cell phone provider to determine whether your contract includes coverage in the country you are visiting. Depending on your contract you may have to add international services and/or country specific services.
ENTERTAINMENT
Food and Drink
Northern Ireland has a good quality of fresh meat and plentiful fish.  Eel is used in dishes around the Lough Neagh area.  Hearty stews, specialty bread and sticky cakes are specialties across the province.  Look out for good independent bakeries where you can try distinctive local breads such as puffy soda farls or the flatter potato farls.  Portion size tends to lean towards the massive, so you shouldn't go hungry.  A hearty breakfast is a must at least once. The traditional Ulster Fry, including bacon, eggs, sausages, tomato, potato farls, soda bread, and black and white pudding, will set you up nicely for the day.
Northern Ireland currently has two Michelin starred restaurants, both located in Belfast.  Belfast and Derry/Londonderry are particularly strong when it comes to "casual" fine dining, with an emphasis on fresh local produce and some genuinely inventive menus to choose from.  The Good Food Guide – a rival to Michelin – has been complimentary about several Northern Irish restaurants.
Specialties:
An Ulster fry – eggs, sausages, bacon rashers, mushrooms, beans, fried tomato, potato farls, soda bread, and black & white pudding.
Shellfish
Homemade vegetable soups
Irish stew
Dusle – Dried seaweed
Potato bread
Soda farls – Puffy soda bread
Pubs are open Mon-Sat 11:30am-11:00pm and Sun 12:30pm-10:00pm with half an hour "drinking-up" time.  Pubs in Belfast often stay open Thu-Sat until 1:00am.  As elsewhere in the UK, smoking is banned in pubs and restaurants.
Nightlife
Northern Ireland has a strong tradition for musical entertainment, from toe-tapping live folk bands, music-filled pubs to soulful lyrics.
Visitors can generally find something suitable, from dance music to opera or classical concerts. Belfast's nightlife has earned itself a pretty serious reputation, with many of its bars and pubs drawing plaudits and a host of nightclubs banging out beats for seemingly insatiable crowds.
For a slightly gentler pace, traditional Irish music in "singing pubs" provides a good evening's entertainment in many places, particularly Belfast and Derry/Londonderry. Special musical events include the Jazz and Big Band Festival in Derry/Londonderry, the Danny Boy Jazz and Blues Festival in Limavady and the Ards Guitar Festival held in Newtownards.
There are also many theatres and art galleries located in and around Belfast.  There are summer theatres in Newcastle and Portrush, plus the Riverside Theatre at Coleraine.  The Belfast Festival at Queen's (usually three weeks in October/November each year) is Ireland's biggest international festival.  Other main venues for drama performances and concerts are the Grand Opera House, Ulster Hall, King's Hall and the Waterfront Hall (all in Belfast), the Armagh Theatre and Arts Centre and the Millennium Forum in Derry/Londonderry, and numerous regional theatres.  Further information can be obtained from the Northern Ireland Arts Council (www.artscouncil-ni-org) or from the Northern Ireland Tourist Board (www.discovernorthernireland.com).
Shopping
Northern Ireland is known for its crafts, Irish linen, cut-glass goblets, creamy Belleek pottery, handmade tweed, hand-embroidered wall hangings, and Carrickmacross lace or silver jewelry. For trendy boutiques packed with designer clothes, art and jewelry, Belfast's Lisburn Road is the place to visit, while Victoria Square in Belfast is a contemporary shopping centre for fashion and toys – it has more than 90 stores, cafes, and restaurants. Major towns such as Ballymena also have a good selection of high street shops.
For fresh produce and the simmering atmosphere of a traditional place of commerce St. George's Market has been drawing Belfast shoppers since the early 1600s.  The market has been in its present building since the 1890s, open every Friday, Saturday, and Sunday for the Variety Market (Friday 6:00am-3:00pm), the City Food & Craft Market (Saturday 9:00am-3:00pm) and Sunday Market (Sunday 10:00am-4:00pm).
Elsewhere, the city of Lisburn – located a short way outside of Belfast – has become something of a retail attraction in its own right, with two large shopping complexes – Bow Street Mall and the Sprucefield Shopping Centre.
In the south, Newry has a couple of diverting weekly markets – the Newry Market, held each Thursday and Saturday, is a great showcase for local produce as well as crafts and antiques.
 Shopping hours: Generally Mon-Sat from 9:00am-6:00pm, Sun 1:00pm-6:00pm (Thu and Fri late-night shopping in Belfast city centre until 9:00pm).  Other cities and towns close for a half-day one day a week (it differs from town to town).  Modern shopping centers on the outskirts of towns have light-night shopping Thu-Fri until 9:00pm.
BAGGAGE
Baggage rules for international and domestic air travel have changed much in recent years, differ from carrier to carrier and these days even may cover your on-board bags. Checking luggage may cost a separate fee or may be free depending on your personal status with the carrier. We therefore encourage you to read your ticket's small print and/or contact your carrier for exact rules.
TIPPING
About 10% is customary if you were satisfied with the service. Tour directors and coach drivers may be tipped based on $1.00 per person per day for the driver and $3.00 per person per day for the tour director. If you travel on a private arrangement with a tour director who performs well, you may want to tip a bit more.
LAUNDRY
Laundry service is available at most hotels in the main centers. Generally you should allow about 24-hours before the item is returned to you, however, some have an emergency service available at an extra charge. Pack lightly and rather use such laundry services on a longer trip. It may in fact save you baggage fees with the airlines (see baggage).
PHOTOS & VIDEOS
In some countries you must refrain from photographing sites such as Military bases and industrial installations. Also be aware of cultural sensitivities when taking pictures of or near churches and other religious sites. It is always courteous to ask for permission before taking photographs of people.
USE OF DRONES 
The use of drones is being legislated by many countries. In some cases drones are already forbidden and their unauthorized use may carry severe penalties. If you plan to travel with a drone please contact the embassy or consulate of the country you wish to visit.