GEOGRAPHY
Macau is located south of China's Guangdong Province.  To the east is the Zhujiang River Estuary and to the west is the Xi River.  It is linked to the islands of Taipa and Coloane by three bridges.  The terrain in Macau is generally flat.  The highest point is Coloane Alto (Coloane Peak).
HISTORY
The first known people to settle in Macau (previously known as Ou Mun or "trading gate") were the fisherman from Fujian and farmers from Guandong due to its location at the Pearl River Estuary.  In 1557 the Portuguese settled in Macau, with China's permission, and it became a major trading post between China, Japan, India, and Europe.  Macau was called "A Ma Gao" by the Chinese in honor of the patron goddess of sailors A-Ma.  Later it was changed to Macau by the Portuguese.  Missionaries were sent from the Roman Catholic Church converting large numbers of Japanese and Chinese to Christianity.  As a result many churches were built including a renowned Christian college.  In 1685 the benefit the Portuguese had in trading with China ended, allowing China to trade with all foreign countries. After the Opium War in 1841 (in which China surrendered Hong Kong to the British) Hong Kong was established as a major port by Britain.  This caused Macau to become a quiet and sleepy port town, however, it remained important to Chinese and European refugees during the Sino-Japanese War and World War II.  The Chinese population continued to grow when the communist government assumed power in China in 1949. In 1951 Portugal officially made Macau one of its overseas provinces. In 1974 a military coup in Portugal would designate additional administrative autonomy and economic independence to the territory. The constitution enacted in 1976 established the Legislative Assembly, which was dominated by the minority Portuguese. Until diplomatic relations were strengthened between Portugal and the communist government in China in 1979, talks on transferring Macau to Chinese control were unsuccessful.
In March 1984 the Portuguese governor disbanded the assembly in response to opposition within the government to extend the right to vote to the Chinese majority. A few months later new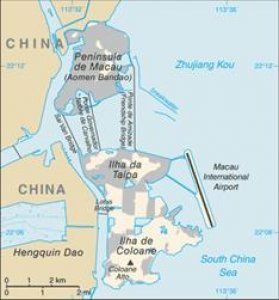 elections, which included Chinese suffrage, finally brought a significant number of Chinese deputies into the government. In April 1987 Portugal and China reached an agreement to return Macau to Chinese rule in 1999, using the Hong Kong Joint Declaration between Britain and China as an example. They agreed to provisions under the Basic Law that would ensure the autonomy of Macau for 50 years after the start of Chinese rule. These included Macau's right to elect local leaders, the right of its residents to travel freely, and the right to maintain its way of life, both economically and socially. Defense and foreign policy matters were to be administered by China, and those living in Macau without Portuguese passports would become Chinese citizens. Elections continued to turn out record numbers of voters and a Chinese majority legislature. On December 20, 1999, Macau became a Special Administrative Region (SAR) of the People's Republic of China, as Hong Kong had in 1997.
THE PEOPLE
The people of Macau are Macanese and of East Asian ethnicity (mixed Portuguese and Asian) that originated in Macau in the 16th century.
SOCIAL CONVENTIONS
Socialization usually takes place in restaurants and public places.  Gifts in the form of spirits are given in return for hospitality.
LANGUAGES
Chinese (Cantonese) and Portuguese are the official languages.  English is widely spoken by those in trade, tourism and commerce.  Hokkien and Mandarin are also spoken.
GOVERNMENT
Presidential limited democracy; a special administrative region of the People's Republic of China.
TIME ZONE
UTC +8, China Standard Time (CST).
ELECTRICITY
230 volts, frequency 50Hz. Power plugs and sockets are of type D,F,G, and M.
 CLIMATE
Due to its coastal region location, Macau is subtropical with hot and humid summers (May-Sep).  Winters (Dec-Feb) are mild and dry.  Spring (Mar-Apr) and autumn (Oct-Nov) are pleasant with comfortable temperatures.  Typhoon season starts in May and ends in October, with July to September as its peak period.
 Clothes to Wear
In summer wear lightweight cotton clothing.  Warmer clothing is required for winter.  For spring and autumn a sweater or light jacket is required.
LOGISTICAL
Entry & Exit Requirements
A visa is not required for stays of fewer than 30 days. For longer stays, you must apply for an extension of stay, which must be approved by the Macau SAR Immigration Department.  A valid passport and visa is required to enter the People's Republic of China (PRC) from Macau.
An onward or return ticket and proof of sufficient funds is required to visit Macau, unless you can show proof of residency in China or Hong Kong.
Visit the Embassy of the People's Republic of China website http://www.china-embassy.org/eng/ for the most current visa information.  We cannot intervene on your behalf when applying for a visa, nor can we assist if you are denied entry.
The U.S. Department of State is unaware of any HIV/AIDS entry restrictions for visitors to or foreign residents of Macau SAR.
Please note that the official languages of Macau are Chinese and Portuguese. Some websites have no English translation.
Embassy Locations
U.S. Consulate General Hong Kong & Macau
26 Garden Road, Central,
Hong Kong
Telephone: +(852) 2841-2211,
+(852) 2841-2225, +(852) 2841-2323
Emergency After-Hours Telephone:
+(852) 2523-9011
Fax: +(852) 2845-4845
Email: acshk@state.gov
Hong Kong – Consulate General of Canada
9th Floor, 25 Westlands Road,
Quarry Bay, Hong Kong SAR,
China
Telephone: 85 (2) 3719 4700
Fax: 85 (2) 2847 7561
Email: hkong-cs@international.gc.ca
HEALTH
Several major hospitals in Macau have adequate medical facilities, and Kiang Wu and Conde de Sao Januario hospitals are able to provide emergency medical care.  The U.S. Consulate General in Hong Kong has a list of medical providers in Macau on their website – https://hk.usconsulate.gov/u-s-citizen-services/doctors/.
The U.S. government does not pay medical bills, and U.S. Medicare is not valid overseas.
Medical Insurance: Make sure your health insurance plan provides coverage overseas. Most care providers overseas only accept cash payments.
We strongly recommend supplemental insurance to cover medical evacuation.
Air Quality: Air pollution is an increasing concern in Macau. Congested vehicle traffic and mainland factories pump out ozone, sulfur, and nitrogen oxides, leading to a visible haze in the atmosphere on most days of the year. Average roadside pollution levels exceed WHO guidelines and may cause health risks for those with allergies, asthma, or cardiac problems.
The following diseases are prevalent: Hepatitis A, Hepatitis B, Typhoid, Chikungunya (via mosquitoes), Avian Influenza, and Hand, Foot, and Mouth disease.
Use insect repellents containing either 20% DEET, picaridin, oil of lemon eucalyptus, or IR3535 for protection against ticks and mosquitoes.
Do not eat raw or undercooked poultry products.  Practice hygiene and cleanliness.  Visit a doctor if you become sick during or after travel.
 Vaccinations: Be up-to-date on all vaccinations recommended by the U.S. Centers for Disease Control and Prevention.
Information on vaccinations and other health precautions, such as safe food and water precautions and insect bite protection, may be obtained from the Centers for Disease Control and Prevention's (CDC) hotline for international travelers at 1-800-CDC-INFO (1-800-232-4636) or via the CDC website at http://wwwnc.cdc.gov/travel. For information about outbreaks of infectious diseases abroad, consult the infectious diseases section of the World Health Organization (WHO) website at http://www.who.int/topics/infectious_ diseases/en/. The WHO website also contains additional health information for travelers, including detailed country-specific health information.
BANKS & CURRENCY
The official currency in Macau is Pataca (MOP) – it's divided into 100 avos. There are banknotes and coins in the following denominations:
Coins: 10, 20 and 50 avos; 1, 2, 5, and, 10 Patacas.
Banknotes: 10, 20, 50, 100, 500, and 1000 Patacas.
By the decision of the Government the Pataca is linked to the Hong Kong dollar (HKD).   Foreign currency can be changed in hotels, banks and authorized exchange dealers located all around the city. The Macau International Airport also provides currency exchange service.
Banks open normally from 9 a.m. to 5 p.m. Most credit cards are accepted in many hotels, shops and restaurants.
Credit Cards
Major credit cards are accepted in most hotels, restaurants and shops. Visa, Mastercard, American Express and Diner's Club International are accepted.
COMMUNICATION
Telephone numbers in Macau have a country calling code of +853 and an 8-digit National Significant Number (NSN) (e.g., +853 XXX XXXX).  To call a telephone number in Macau from abroad, use your International dialing code plus the country code for Macau (853). All telephone numbers begin with a "0" but for international calls, drop this leading zero. For example 01234 5678 becomes 011 853 1234 5678.
Cell Phone Usage
Please contact your cell phone provider to determine whether your contract includes coverage in the country you are visiting. Depending on your contract you may have to add international services and/or country specific services.
ENTERTAINMENT
Food and Drink
Macau offers a variety of cuisines – Portuguese, Chinese, Japanese, Indian, and others.  Some local foods you can try – dried shrimp roe noodles, wonton noodles, pork chop bun, porridge (congee), skewers, beef jerky, almond cookies, coke boiled with ginger, and egg puffs.
Nightlife  
Macau is a city that never sleeps, with plenty of bars, restaurants, and discos open all night, located along the Avenida Dr. Sun Yat-Sen close to the Kun Iam Statue. With its picturesque location, facing the OuterHarbour and Pearl River, you can enjoy the music and wine whilst watching the boats glide by. The music is completely cosmopolitan, with bars throbbing to the rhythms of Brazil, Portugal, the UK, Africa and every part of Asia.
Most of the main hotels also have bars and lounges, some with international live bands and dance performances, while others offer stylish wine lounges. There are also some popular pubs on Taipa Island, with a casual ambiance that makes visitors feel right at home.
The largest casinos in the world are in Macau; its nickname is the 'Las Vegas of the East'.  The original casinos were built on the Macau Peninsula but the newer complexes such as the Venetian and MGM have been all built on the Cotai strip.  These casino complexes also have the best hotels, restaurants and shows in Macau.
Shopping
Macau is a popular shopping destination due to its free port status: there is no sales tax.  Common buys include jewelry, Chinese antiques, porcelain pottery, electronic gadgets, cameras, watches, and beading work.  Luxury goods malls are also available and are located around casino resorts such as Wynn Macau and The Venetian.
Shopping hours: Mon-Sat 8:00am-6:00pm.
BAGGAGE
Baggage rules for international and domestic air travel have changed much in recent years, differ from carrier to carrier and these days even may cover your on-board bags. Checking luggage may cost a separate fee or may be free depending on your personal status with the carrier. We therefore encourage you to read your ticket's small print and/or contact your carrier for exact rules.
TIPPING
About 10% is customary if you were satisfied with the service. Tour directors and coach drivers may be tipped based on $1.00 per person per day for the driver and $2.00 per person per day for the tour director (2020). If you travel on a private arrangement with a tour director performing well you may want to tip a bit more.
LAUNDRY
Laundry service is available at most hotels in the main centers. Generally you should allow about 24-hours before the item is returned to you, however, some have an emergency service available at an extra charge. Pack lightly and rather use such laundry services on a longer trip. It may in fact save you baggage fees with the airlines (see baggage).
PHOTOS & VIDEOS
In some countries you must refrain from photographing sites such as Military bases and industrial installations. Also be aware of cultural sensitivities when taking pictures of or near churches and other religious sites. It is always courteous to ask for permission before taking photographs of people.
USE OF DRONES 
The use of drones is being legislated by many countries. In some cases drones are already forbidden and their unauthorized use may carry severe penalties. If you plan to travel with a drone please contact the embassy or consulate of the country you wish to visit.