GEOGRAPHY
Iceland is a volcanic island in the North Atlantic Ocean east of Greenland and immediately south of the Arctic Circle. It lies about 4,200 kilometers (2,600 mi.) from New York and 830 kilometers (520 mi.) from Scotland. About 79% of Iceland's land area, which is of recent volcanic origin, consists of glaciers, lakes, a mountainous lava desert (highest elevation 2,000 meters–6,590 ft.–above sea level), and other wasteland. About 28% of the land is used for grazing, and 1% is cultivated. The inhabited areas are on the coast, particularly in the southwest where about 60% of the population lives.
Because of the Gulf Stream's moderating influence, the climate is characterized by damp, cool summers and relatively mild but windy winters. In Reykjavik, the average temperature is 11°C (52°F) in July and -1°C (30°F) in January.
HISTORY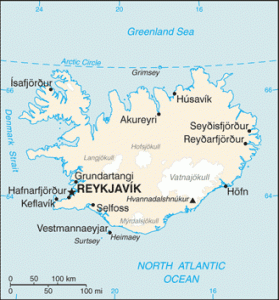 Settled by Norwegian and Celtic (Scottish and Irish) immigrants during the late 9th and 10th centuries A.D., Iceland boasts the world's oldest functioning legislative assembly, the Althing, established in 930. Independent for over 300 years, Iceland was subsequently ruled by Norway and Denmark. Fallout from the Askja volcano of 1875 devastated the Icelandic economy and caused widespread famine. Over the next quarter century, 20% of the island's population emigrated, mostly to Canada and the US. Denmark granted limited home rule in 1874 and complete independence in 1944. The second half of the 20th century saw substantial economic growth driven primarily by the fishing industry. The economy diversified greatly after the country joined the European Economic Area in 1994, but Iceland was especially hard hit by the global financial crisis in the years following 2008. Literacy, longevity, and social cohesion are first rate by world standards.
THE PEOPLE
Homogeneous mixture of descendants of Norse and Celts 94%, population of foreign origin 6%
SOCIAL CONVENTIONS
Visitors will find Iceland is a classless society with a strong literary tradition. Handshaking is the normal form of greeting. An Icelander is called by his first name because his surname is made up of his father's Christian name plus 'son' or 'daughter' (eg John, the son of Magnus, would be called John Magnusson, while John's sister, Mary, would be known as Mary Magnusdóttir). People are addressed as Fru (Mrs) and Herra (Mr).
LANGUAGES
Icelandic, English, Nordic languages, German widely spoken
GOVERNMENT
Constitutional Republic
TIME ZONE
Local time is GMT (UTC​)
ELECTRICITY
Electricity in Iceland uses the voltage 230 V and 50 Hz, and the Europlug/Schuko-Plug (CEE types), which has two round prongs.
CLIMATE
The climate of Iceland's coast is subpolar oceanic. The warm North Atlantic Current ensures generally higher annual temperatures than in most places of similar latitude in the world. Regions in the world with similar climates include the Aleutian Islands, the Alaska Peninsula, and Tierra del Fuego, although these regions are closer to the equator. Despite its proximity to the Arctic, the island's coasts remain ice-free through the winter. Ice incursions are rare, the last having occurred on the north coast in 1969.
The climate varies between different parts of the island. Generally speaking, the south coast is warmer, wetter and windier than the north. The Central Highlands are the coldest part of the country. Low-lying inland areas in the north are the most arid. Snowfall in winter is more common in the north than the south.
Clothes to Wear:
Lightweights in warmer months, with extra woolens for walking and the cooler evenings. Medium- to heavyweights are advised in winter. Waterproofing is recommended throughout the year. Umbrellas are not recommended because rain is very often accompanied by wind.
LOGISTICAL
Entry & Exit Requirements:
Iceland is a party to the Schengen Agreement. This means that U.S. citizens may enter Iceland for up to 90 days for tourist or business purposes without a visa. Your passport should be valid for at least three months beyond the period of stay. You also need to show that you have sufficient funds and a return airline ticket. For further details about travel into and within Schengen countries, please see our Schengen fact sheet. For the most current visa information, contact the Embassy of Iceland at 2900 K Street, N.W., Washington, D.C. 20007-1704, tel: 1-202-265-6653.
Embassy Locations:
Embassy in Iceland
U.S. Embassy Reykjavik
Laufasvegur 21
101 Reykjavik
Telephone: 354-562-9100
Emergency After-Hours Telephone: 011-354-595-2248
Fax: 354-562-9110
Embassy of Canada to Iceland
Túngata 14
101 Reykjavík
Iceland
Tel.: +354-575-6500
Fax: +354-575-6501
Health:
Information on vaccinations and other health precautions, such as safe food and water precautions and insect bite protection, may be obtained from the Centers for Disease Control and Prevention's (CDC) hotline for international travelers at 1-800-CDC-INFO (1-800-232-4636) or via the CDC website at http://wwwnc.cdc.gov/travel. For information about outbreaks of infectious diseases abroad, consult the infectious diseases section of the World Health Organization (WHO) website at http://www.who.int/topics/infectious_ diseases/en/. The WHO website also contains additional health information for travelers, including detailed country-specific health information.
 Banks & Currency:
The unit of currency used in Iceland is the Icelandic krona, ISK – Íslensk króna in Icelandic.  Króna means crown. The Icelandic word in the singular, "króna", becomes "krónur" in plural. The international currency abbreviation is ISK, but in Iceland you will see "kr." before or after the price of things. Coin denominations are: 1 króna; 5, 10, 50, and 100 krónur. Banknotes are: 500, 1000, 2000, 5000 and 10000 krónur.
All banks can exchange currency and most hotels, but you are likely to get a better rate at the bank. Some shops catering to tourists will accept payment in US dollars or euro but not necessarily at the best rate. Almost every shop and most businesses accept Visa and MasterCard credit cards although American Express is not as common. Cards are commonly used in Iceland even for quite small transactions.
Communication:
You can buy a local SIM card, if you have an unlocked mobile phone. The biggest companies are Síminn, Vodafone and Nova. Compare prices on their websites in advance. The airline you fly in on might be selling a prepaid package for a lower price, as it is duty free. If not, try buying one at the duty free store at the airport. If you have a smartphone, you can buy packages to use the internet through the cellular network.
Most hotels, guesthouses, hostels, cafés etc. have a working Wi-Fi network. There are a couple of public computers at the University of Iceland and the National Library that you can use for free and without the need to log in.
Cell Phone Usage:
Please contact your cell phone provider to determine whether your contract includes coverage in the country you are visiting. Depending on your contract you may have to add international services and/or country specific services.
ENTERTAINMENT
Food & Drink:
Icelandic cuisine has changed a lot in the last few decades from involving mainly lamb or fish in some form or other, as the popularity of other types of food has increased. A vegetarian diet is trickier to maintain but there are several vegetarian restaurants in Reykjavík and vegetarian dishes widely available at other restaurants.
Distinctively Icelandic foods include:
Fish
harðfiskur, dried fish pieces eaten as a snack with butter (also good with coleslaw)
skyr, a yoghurt-like dairy product available in flavoured and unflavoured varieties all over the country. Low in fat and high in protein.
hangikjöt, smoked lamb
svið, singed sheep's head
Slátur, consists of lifrarpylsa, a sausage made from the offal of sheep, and blóðmör which is similar to lyfrapylsa only with the sheep's blood mixed into it.
Iceland is famous for its whale meat, and is one of the few places in the world where it is possible to eat Minke whale. The common assumption is that whale meat is a traditional dish in Iceland, and while it is available in restaurants this is generally for the tourist experience. Whaling has long been a tradition in Iceland, albeit it has become a controversial issue in recent times. However, most restaurants that cater to tourists will sell whale meat, and if you are feeling a little more adventurous some places will serve grated puffin with it if you ask.
Nightlife:
As with Reykjavik the best spots to start socializing are bars and pubs, as well as some of the cafes that turn into bars after 6pm. Some of the bars listed below are attached to restaurants but you can always drink without eating.
Icelanders go out quite late so often a night might look quite slow when all of a sudden things start to kick off. On a weekend this might not happen until midnight or later. After that it will get very difficult to get into some of the hottest nightclubs. So if you are not a VIP, don't know the doorman or anyone that can get you in, you have to get in early.
Shopping:
Typical Icelandic products that make good souvenirs include:
Icelandic wool products. Icelandic sheep are a unique breed that produces soft and durable wool and Icelandic woolen goods (hats, gloves etc.) are soft and warm; don't just buy them for other people if you plan to visit the interior.
Arts and crafts. Iceland has a huge number of excellent little craft shops that sell products from musical baskets and wonderful porcelain sculptures to paintings, glasswork and jewelry. The National Galleries tend to carry the same artist's work in the gift shops.
Local music. There is a plethora of interesting local music CDs (beyond just Björk and Sigur Rós) worth hunting for. Obscurities worth picking up include Ólafur Arnalds, Eberg, Hera, Retro Stefson, FM Belfast, Worm is Green, Múm, Singapore Sling and Bellatrix. Be warned that many of these CDs are often available back home as imports for much lower prices. CDs tend to cost kr 1500-2000.
BAGGAGE
Baggage rules for international and domestic air travel have changed much in recent years, differ from carrier to carrier and these days even may cover your on-board bags. Checking luggage may cost a separate fee or may be free depending on your personal status with the carrier. We therefore encourage you to read your ticket's small print and/or contact your carrier for exact rules.
TIPPING
In general, tipping is not as widely common in Iceland as it is in other countries, but perhaps for different reasons. The main reason is that many bills already have the gratuity or service charge added into the total. Another reason is that most workers in Iceland make decent wages and do not rely on tips. In fact, you will notice that the prices in Iceland may seem a little on the expensive side. Basically, if you tip, this not will depend on the quality of service. Even though tipping in Iceland may not be expected, it is still always appreciated.
LAUNDRY
Laundry service is available at most hotels in the main centers. Generally you should allow about 24-hours before the item is returned to you, however, some have an emergency service available at an extra charge.
PHOTOS & VIDEOS
In some countries you must refrain from photographing sites such as Military bases and industrial installations. Also be aware of cultural sensitivities when taking pictures of or near churches and other religious sites. It is always courteous to ask for permission before taking photographs of people.
USE OF DRONES 
The use of drones is being legislated by many countries. In some cases drones are already forbidden and their unauthorized use may carry severe penalties. If you plan to travel with a drone please contact the embassy or consulate of the country you wish to visit.