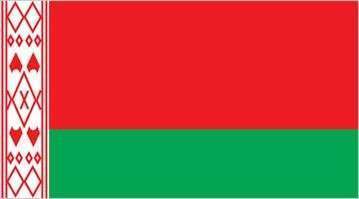 GEOGRAPHY
Belarus is set just below the Baltic states, southeast of Lithuania and Latvia, east of Poland, southwest of Russia and north of the Ukraine. Roughly the size of Kansas or Great Britain, Belarus covers an area of 80,154 square miles. Most of the land is used for agriculture and is characterized by gently rolling fields in the north and marshy lowlands in the south. Dense forest covers about one-third of the land which is home to more than 11,000 lakes. The largest of the lakes, Lake Naroch, is located in the northwest. Of the 20,000 or more rivers and streams, the most important river is the Dnieper. The Dnieper River runs from Russia, through Belarus and then south into the Ukraine and has provided an important shipping channel between the Baltic and Black Seas.
HISTORY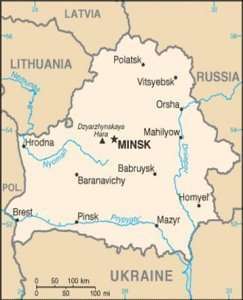 Settlement in Belarus began in the 9th to 12th centuries by Baltic and Slavic tribes and emerged the Belarusian state which then became part of what was known as Kievan Rus' during the 9th century. Belarus later became part of Litva, which included Belarus and Lithuania. The territory was pulled into various wars with Russia and other European countries during the 16th to 18th centuries. Russia took control of the western part of Belarus in 1772 and attempted to suppress the Belarusian identity under its empire. Belarus remained occupied by the Russian empire from the end of the 18th century until 1918 when Belarus declared its independence. Belarusian nationalism increased as the economy grew but only lasted until 1919 when they were absorbed by the Bolsheviks and integrated into the USSR by 1922. Between this era under Stalin's leadership and eventually the German Nazi occupation of 1941, Belarus suffered major population losses. This included an execution of 800,000 Jews. By 1944, Belarus was retaken by the Soviets. Belarus declared its independence on August 25, 1991, shortly before the fall of the Soviet Union was announced. From 1994 and on, Belarus has been ruled under authoritarianism by Alexander Lukashenko, and the country is referred to by some as Europe's last dictatorship. Through corrupt manipulation of the system including imprisoning and sometimes beating political opposition, Lukashenko has remained in power. The country's ties with Russia have grown and current government restrictions on freedoms including speech, press, peaceful assembly and religion are still in place.
THE PEOPLE
Around 50 percent of Belarusians are part of the Orthodox Christian faith. 40 percent are non-religious and around 7 percent are Roman Catholic. There are also a few small Muslim and Jewish communities.
SOCIAL CONVENTIONS
Shaking hands is the proper greeting when meeting someone for the first time. Although many may seem blunt, Belarusians are quite welcoming and friendly. The society overall is conservative and although not illegal, any, what some may consider, homosexual activity may garner some unfriendliness. Avoid using the "thumbs up" gesture as it may be considered rude.
LANGUAGES
Belarusian and Russian are the official languages. Although one might expect Belarusian to be the more widely spoken language, about 37 percent speak it while almost 63 percent speak Russian. Other minority languages include Polish and Ukrainian.
GOVERNMENT
Presidential Republic
TIME ZONE
UTC + 2 – (observes summer daylight savings time)
ELECTRICITY
220V supply voltage and 50Hz
Plugs and Sockets Type C & F
CLIMATE
The climate in Belarus transitions between continental and maritime with cold winters, and cool and moist summers. The warmer months are from May to September. The weather during this time is moderate with longer days. The highest temperatures reach up to 77°F in July and August but average around 64°F. The winter months are between December and February, and may last an extra month in the eastern part of the country. Snow can be common as temperatures drop down to 24.8°F. Temperatures rise quickly in spring and may rise to 70°F by April. Rainfall can occur throughout the year.
Clothes to Wear:
The warmer months are May, June, July, August and September. It can rain throughout the year, so you may want a light rain coat. We usually don't recommend traveling long distances with an umbrella. If you feel you need an umbrella, rather purchase one overseas. Pack some smart layered clothing. Even in summer it can get cool.
From November it turns colder and wetter. Snow is possible. January and February are the coldest months. Pack some warm layered clothing, a coat, gloves, warm hat and scarf. Even in the summer months of June, July and August, it can be cool some days and in the evenings. Clever layering is the key to dressing for changeable weather.
LOGISTICAL
Entry & Exit Requirements:
30 Day Visa Free Travel
U.S. passport holders traveling to Belarus via Minsk International Airport may enter visa-free for up to 30 days (the 30-day limit includes the day of arrival and the day of departure) for tourism or business.
Visa-Free Travel Requirements
U.S. citizens wishing to enter Belarus for 30 days without a visa must:
Hold a valid passport;
Enter and exit Belarus via Minsk International Airport;
Arrive from and depart to any country other than the Russian Federation;
Show evidence of finances in the form of cash, credit cards or travelers checks equivalent to 25 Euros for each day of stay;
Show evidence of a medical insurance policy with at least 10,000 Euros of coverage valid throughout Belarus. Such a policy may be purchased at the airport upon arrival; please see the Embassy of Belarus website (http://usa.mfa.gov.by/en/consular_issues/visas/) for information about current fees; and
Register with the local office of the Citizenship and Migration Department of the Ministry of the Interior for stays longer than five working days (see below).
The Visa-free option is not available to you if:
You are coming directly to or from the Russian Federation.
You enter and exit Belarus anywhere other than Minsk International Airport.
You plan to stay longer than 30 days.
You are entering on a diplomatic or official passport.
Travelers who stay longer than 30 days or who violate the visa-free registration rules can face administrative action which may include a fine of up to €550, deportation, and prohibition from entering Belarus in the future.
Visitors to Belarus may request a visa before traveling from the Embassy of Belarus. Instructions for obtaining a visa are available on the Embassy of Belarus website. Please note that the Government of Belarus has the authority to deny entry to any foreign visitor whether or not he/she has a visa.
Travelling between Russia and Belarus 
Car and Train Travel: Belarus and Russia do not have international passport control capabilities at the land border. Therefore, U.S. citizens and other foreigners, even those holding valid visas, may not cross the Belarusian – Russian border by car, train, or on foot. Only Russian and Belarusian passport holders may transit the land border.
Air Travel: U.S. citizens require a visa in order to travel by air between Belarus and Russia. Regulations regarding travel between Russia and Belarus may change unexpectedly. Even if you already hold a visa, before planning a trip we recommend you visit the Embassy of Belarus website (http://usa.mfa.gov.by/en/consular_issues/visas/) and the website of the Embassy of the Russian Federation (https://washington.mid.ru/en/consular-services/citizens-usa/visa-to-russia/) for the latest information.
Registration
All U.S. citizens staying in Belarus for more than five business days are required to register with the local office of the Citizenship and Migration Department of the Ministry of Interior (formerly OVIR). This requirement applies to visa holders and those who enter Belarus under the 30-day visa-free regime. Please keep in the mind the following:
Registration must be completed within five business days of arrival.
If you are staying in a hotel, the hotel will complete the registration for you.
If you have a short term rental of an apartment or house, be sure to check with the rental agent; they may be able to assist you.
If you are staying in a private home, you must complete the registration process yourself.
If you fail to register or if you remain in Belarus longer than 30 days you will face administrative action which may include a fine of up to €550, deportation, and prohibition from entering Belarus in the future.
Foreign citizens entering on a tourist or business visa may not stay in Belarus for more than 90 days total during any calendar year, including dates of entry and departure.
Visit the Belarusian Embassy website for the latest information regarding entry requirements for traveling to Belarus.
Transiting Schengen Countries:
Your passport should be valid for at least three months beyond the period of stay if you plan on transiting a Schengen country.
You will need sufficient proof of funds and a return airline ticket.
The U.S. Department of State is unaware of any HIV/AIDS entry restrictions for visitors to Belarus on a 30-day visit. Long-term residents (those spending more than 90 days a year in Belarus) or students must obtain an HIV/AIDS test in Belarus and submit the results to the Department of Citizenship and Migration when applying for an extension of stay or residency. We recommend you verify this information with the Embassy of Belarus (http://usa.mfa.gov.by/en/embassy/address/) before you travel.
Embassy Locations:
46 Starovilenskaya St.
Minsk 220002, Belarus
Telephone: +(375) (17) 210-1283
Emergency After-Hours Telephone: +(375) (29) 676-0134
Fax: +(375) (17) 334-7853
Email: ConsularMinsk@state.gov
There is no Canadian government office in Belarus. You can obtain consular assistance from the Embassy of Canada to Poland in Warsaw.
Warsaw – Embassy of Canada
Jana Matejki 1/5,
00-481, Warsaw, Poland
Telephone: 48 (22) 584-3343 or 48 (22) 584-3344
Fax: 48 (22) 584-3101
Email: wsaw-cs@international.gc.ca
Health:
Medical care in Belarus is neither modern nor easily accessible. Hospitals and medical facilities are below U. S. standards and lack basic supplies. Trauma care is well below U.S. standards; Belarus lacks the level of care and competence to deal with serious injuries.
Standard U.S. health insurance plans are not accepted in Belarus.
Ambulances are poorly equipped and unreliable. It is not unusual to wait 30 minutes for an ambulance.
Consider purchasing medical evacuation insurance prior to traveling to Belarus.
There are no air ambulance services in Belarus.
The government requires all visitors show evidence of valid purchase health insurance. You may purchase local health insurance at your point of entry.
The medical emergency number for Belarus is 103
We do not pay medical bills. Be aware that U.S. Medicare does not apply overseas.
Medical Insurance:  The government requires all visitors to purchase local health insurance or show evidence of a policy with international coverage that includes Belarus. You may purchase the local health insurance at the points of entry. If you plan to use international medical insurance purchased outside Belarus, be sure to check with the Embassy of Belarus to be sure your policy is acceptable.
We strongly recommend supplemental insurance to cover a potential medical evacuation.
If traveling with prescription medication:
You must carry your prescription medication in the original packaging
You should have the written prescription from your doctor.
You should check with the government of Belarus, and Ministry of Foreign Affairs  to ensure your medication is legal in Belarus.
Some common medications in the U.S., such as opioid pain relievers, are illegal in Belarus.
Belarusian officials have confiscated these drugs from travelers.
The following diseases are prevalent: Tuberculosis (TB) is an increasingly serious health concern in Belarus. For further information, please consult the Centers for Disease Control and Prevention's (CDC) information on TB.
Vaccinations: Be up-to-date on all vaccinations recommended by the U.S. Centers for Disease Control and Prevention.
Information on vaccinations and other health precautions, such as safe food and water precautions and insect bite protection, may be obtained from the Centers for Disease Control and Prevention's (CDC) hotline for international travelers at 1-800-CDC-INFO (1-800-232-4636) or via the CDC website at http://wwwnc.cdc.gov/travel. For information about outbreaks of infectious diseases abroad, consult the infectious diseases section of the World Health Organization (WHO) website at http://www.who.int/topics/infectious_ diseases/en/.The WHO website also contains additional health information for travelers, including detailed country-specific health information.
BANKS & CURRENCY
Currency is in rubles.
COMMUNICATION
Country code: 375
Internet country code: .by
Cell Phone Usage:
Please contact your cell phone provider to determine whether your contract includes coverage in the country you are visiting. Depending on your contract you may have to add international services and/or country specific services.
ENTERTAINMENT
Food & Drink:
Belarusian cuisine closely resembles Lithuanian cuisine with some polish influences. Meat and vegetables is the primary base for meals. Of the vegetables, mushrooms stands out the most. Mushroom gathering is a tradition in Belarus and appears in a variety of ways in meals. International and Russian specialties are also available. Because Belarus is completely bordered by land with no connection to the sea, a selection of seafood may be limited to fresh water fish found in lakes.
Specialties:
Belarusian borsht (soup made with beetroot, served hot with sour cream)
Hribnoy sup (mushroom and barley soup)
Dracheny (potato dish with mushrooms)
Draniki (potato pancakes served with pickled berries)
Drinks:
Beloveszhskaya Bitters (bitters made from a variety of herbs)
Kvas (drink made from malt, flour, sugar, mint and fruit)
Chai (black tea)
Belarusian Vodka
 Nightlife:
Nightlife in Belarus is full of energy in the larger cities where a variety of bars and music venues can be found. Many of the clubs play Russian and Belarusian pop music. For those looking for something more soothing, there are theatres for opera and ballet in large cities like Minsk.
Shopping:
Because of Belarus's Soviet Communist past, shopping may not be as well rounded as in some of the surrounding countries. Souvenirs shops are always available. The capital of Minsk provides the most for shopping. A variety of high-end products including international brands can be found at Stolitsa, a multi-level underground mall.
BAGGAGE
Baggage rules for international and domestic air travel have changed much in recent years, differ from carrier to carrier and these days even may cover your on-board bags. Checking luggage may cost a separate fee or may be free depending on your personal status with the carrier. We therefore encourage you to read your ticket's small print and/or contact your carrier for exact rules.
TIPPING
Most restaurants and bars already include a 10% service charge in the bill. It is customary to leave a bit extra for good service. When the service charge is not included in the bill, 10-15% is the general rule. Tips are not expected by taxi drivers, although most people tell the driver to keep the change. Airport and hotel porters should receive the equivalent of US$ 1.00 per bag.
LAUNDRY
Most hotels will arrange affordable laundry services for guests.
PHOTOS & VIDEOS
In some countries you must refrain from photographing sites such as Military bases and industrial installations. Also be aware of cultural sensitivities when taking pictures of or near churches and other religious sites. It is always courteous to ask for permission before taking photographs of people.
USE OF DRONES
The use of drones is being legislated by many countries. In some cases, drones are already forbidden, and their unauthorized use may carry severe penalties. If you plan to travel with a drone, please contact the embassy or consulate of the country you wish to visit.